Vivo V15 and Y17 receive permanent price-cuts in India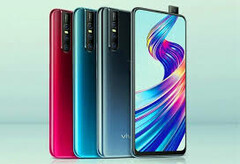 The Vivo V15 and Y17 are MediaTek Helio SoC-powered devices. They have been on sale for Rs. 19,990 (US$288) and 17,990 ($259) respectively in India. These prices have been apparently reduced by Rs. 2000 ($29).
The Vivo V15 and Y17 are mid-range devices powered by MediaTek processors. They both have triple rear cameras, althought the V15 has a full-HD screen and a pop-up camera module. The Y17 has a more conventional notched HD screen.
These phones have already been released at the US$250-350 price-bracket in India, a competitive arena in which only the most competitive products often survive. To this end, a new online report inidcates that both of these phones have received price cuts that are apparently permanent.
The Vivo V15 is now Rs. 19,990 (about US$288) rather than Rs. 21,990 (~$317), whereas the Y17 is now Rs. 15,990 (about $230) instead of Rs. 17,990 ($259). As these phones were only released earlier this year, it hints at a particular, aggressive strategy on the part of Vivo in India. It may also possibly suggest that these phones are to be updated already.