Huawei is the king of the notch, reveals a new smartphone market report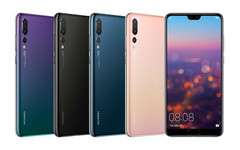 A recent smartphone sales report for the first half of 2018 by Sigmaintell Consulting shows that Huawei shipped more than 25 million handsets (out of a 100 million total) with a notched display during the given period, followed by Apple with over 20 million units. The third position goes to Chinese brand OPPO.
Huawei is serious about taking over the world, there is no doubt about it. Not long after the Chinese brand overtook Apple and became the world's second largest smartphone market, a new report revealed that Huawei is already dominating a rather special niche: the sector of the market that belongs to handsets with a notched display.
The market research document that revealed the situation mentioned above comes from Sigmaintell Consulting. According to it, Huawei managed to ship 25.4 million handsets with a display notch — out of a total of over 100 million Huawei handsets shipped overall during the given period — and Apple grabbed the second place with 20.7 million units. The next three places go to OPPO, Vivo, and Xiaomi.
During the period that started on January 1 and ended on June 30, the entire smartphone industry managed to sell a bit over 86 million devices with a notched display.
At last, Sigmaintell Consulting's report also revealed that the display market was controlled by three major technologies: a-Si LCD (Oxide LCD included) got 42 percent (390 million units), LTPS LCD panels grabbed 36 percent (340 million), and the 200 million AMOLED displays sold during the period accounted for a market share of 21 percent.