IFA 2019 | The new Arun power station has both USB and AC outputs to charge a laptop at up to 100W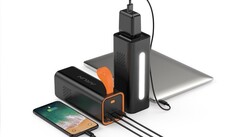 The charging accessory brand Arun has a new travel product that can charge both mobile devices and full notebooks. This "power station" has variants with 22000mAh or 30000mAh capacities, both of which has a full AC outlet, as well as USB type A and C ports. The latter can charge a mobile device at up to 45 watts (W), whereas the former can deliver up to 100W.
IFA is a show often inundated with booths and promotions devoted to products that make travel or portability as techy as possible. This year is no different. A particularly interesting example is the new Arun power station. It looks like a typical blocky power bank, until you see the full AC outlet set into 1 end.
Then again, products like this are not totally unknown, and one or two even claim to deliver the same 100W maximum charge from this outlet as does the new Arun power station. However, not many others are capable of the 45W speed with which this bank's USB type C output is associated. This port is also used to charge the power station itself.
The new accessory also has 2 USB type A ports that support the Qualcomm QuickCharge 3.0 (QC3.0) 18W standard. The product is finished using a "metal particle texture" and has capacities of either 22000mAh or 30000mAh.
It is also equipped with a long oval-shaped LED panel on one side, which, as its manufacturer claims, can illuminate a space measuring up to 150 square meters. To date, Arun has yet to release pricing or stocking information on this new power station.