A new power socket with USB type C Power Delivery ports has modern devices in mind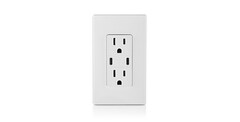 Leviton's new duplex wall socket also has in-built USB outputs. These welcome and increasingly welcome upgrades to electrical fittings are type-C ports with the Power Delivery (USB-PD) standard. This means they are rated to charge compatible devices at up to 30 watts.
More and more new devices, the iPhone 11 Pros included, come with cables that are USB type C at at least 1 end. This may confer an improvement in terms of charging times. To this end, Leviton has included 2 of the requisite ports in its latest duplex wall socket product. They may upgrade and update domestic or business fittings considerably.
These direct type-C outputs are also USB-PD, which means they have a dedicated smart chip that controls their maximal 30W charging. The use of one port on the new Leviton outlet can charge at either 15VDC/2A/30W or 9VDC/3A/27W, provided, that the device in question is also PD-compatible. Non-USB-PD devices will charge at 5VDC/3A/15W. On the other hand, using both ports at once cuts the charging down to 5VDC/3A.
Otherwise, the new product (also known as the T5635) is a conventional 15A-125V grounded wall socket with a Decora tamper-resistant build. It has a thermoplastic body and cover, as well as steel mounting straps. This new fitting comes in black, brown, ivory, gray or white and can be ordered through Leviton dealers or resellers.