Anker claims its new PowerIQ 3.0 technology is compatible with 100W charging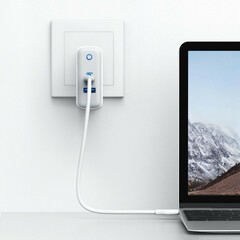 Anker has released details on its new PowerIQ chips to control its upcoming charging accessories. The OEM asserts that they are compatible with QuickCharge 3.0 and PowerDelivery (PD) platforms that charge at up to 100 watts (W). However, the first PowerIQ 3.0 product will be a 60W 2-port charger that can be used with a MacBook.
Anker has announced the development of the latest form of its PowerIQ chips. This series of silicon regulates the OEM's third-party chargers. Their latest generation - Anker PowerIQ 3.0 - is reportedly rated to control charging in line with the QuickCharge 3.0 and Power Delivery (PD) standards up to the tune of 100 watts.
This impressive rate is set to become the new normal in charging terms over the next few years. However, in the meantime, Anker has released only one product based on PowerIQ 3.0 so far. It is a 60W charger with 1 USB-A and 1 USB-C port. This product, called the PowerPort+ Atom III, may therefore be compatible with MacBooks.
This PowerPort+ Atom III may not be 100W; however, Anker claims that it will be capable of outputting 60W through either port on the charger due to the presence of PowerIQ 3.0. It is also equipped with the latest in actual charging materials: gallium nitride (GaN). This makes the charger smaller in size compared to a standard MacBook charger. Currently, it is sold for US$42.99 on Amazon.com.