Powerbeats Pro announced: AirPod technology in a new, fitness-focused true-wireless earbud package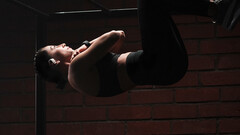 Beats has unveiled its new Powerbeats Pro on its website. These new earbuds are of the 'sports' variety, and thus have over-the-ear loops built into a completely wireless design. Like the new AirPods, they can activate Siri hands-free and have the new H1 chip for wearables.
In accordance with some earlier speculation and rumors, Beats has launched a new generation of the Powerbeats sports earbuds online. Unlike the previous generation, a pair of the re-designed wearables is truly wireless this time. As its maker is an Apple subsidiary, this move will inevitably draw comparisons with the new Apple AirPods, which are already on sale.
They may be somewhat apt, as the Powerbeats Pro have the ability to activate the virtual assistant Siri through voice controls alone. These new earbuds will also be powered by the H1 chipset also found in the second-generation AirPods. On the other hand, the Powerbeats also have built-in, adjustable sports loops, whereas the other Apple wireless buds have nothing like that to help stay in a user's ear.
Beats also claims that the Powerbeats Pro can last for up to 9 hours on a single charge, which is facilitated through an (again) AirPods-esque case. The company failed to mention whether this component will have wireless charging or not, although it will have a Lightning-to-USB cable for wired power.
Although these products are not yet on sale, we know that the Powerbeats Pro will come in Ivory, Black, Moss or Navy color options. Those excited for less losable Apple audio technology may be a little put off by their price, however: it is set at US$249.99, compared to $199.99 for their new, wireless charging-enabled Apple-branded counterparts.