Fitness tracker users are found to worry that their devices may not be accurate enough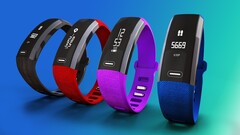 A new study into user attitudes towards wearables found that health tracking is the most popular use of this electronics category. 36% of those polled reported concerns that these functions may not live up to reality, however. 10% of the respondents also said they worried about data security on these devices.
The Manifest has released a new report on wearables and how those who have taken to their use feel about them. It is based on a study of the same which involved survey responses from 434 users familiar with this area of technology. This project resulted in findings that these individuals were mostly drawn to the same for monitoring aspects of their health such as their heart rate (26%) or their progress in personal fitness regimes (38%).
However, 36% of the respondents also reported concerns that the same fitness trackers might not detect or record the metrics in question properly. This may be a particular worry for the 14% who wear them in order to notify themselves or others of potentially serious medical events.
The Manifest's report also stated that 10% of those surveyed also worried about the theft of the personal data committed to their wearables. 12% of the users were also concerned that their devices might display health or fitness data that would be difficult to interpret, whereas 18% were most anxious that their device might stop working.