The Honor Band 5 is better value than the Xiaomi Mi Band 4 despite its faux pas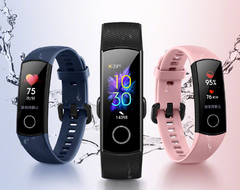 The Honor Band 5 convinced us during our tests and is a good fitness tracker package at an affordable cost. The device offers more than the Xiaomi Mi Band 4 does in our opinion too, despite its shortcomings. One may have people looking elsewhere, though.
The Honor Band 5 is a good companion for use on the go. It also probably offers the best combination of hardware and software of any fitness tracker we have tested so far. Despite this, it does not always do what it is supposed to do. Frustratingly, the device does not record steps accurately, with our review unit wildly over-estimating the volume of steps we had done throughout our tests.
If you can get over these issues, then the Band 5 is well-made, has excellent battery life and can also measure blood oxygen levels. You can also use the device as a remote control with an Honor or Huawei smartphone, allowing you to take photos without touching your handset. The Xiaomi Mi Band 4 cannot do this, for example, which gives the Band 5 the edge in that regard. The integration of the Huawei Health app is also better than the Xiaomi Mi Fit App, primarily because of its layout and UI.
Please see our corresponding Honor Band 5 review for our full thoughts on the company's latest fitness tracker and why it edges out the Xiaomi Mi Band 4. (buy Honor Band 5 now at Amazon)