LG Watch W7 Smartwatch Review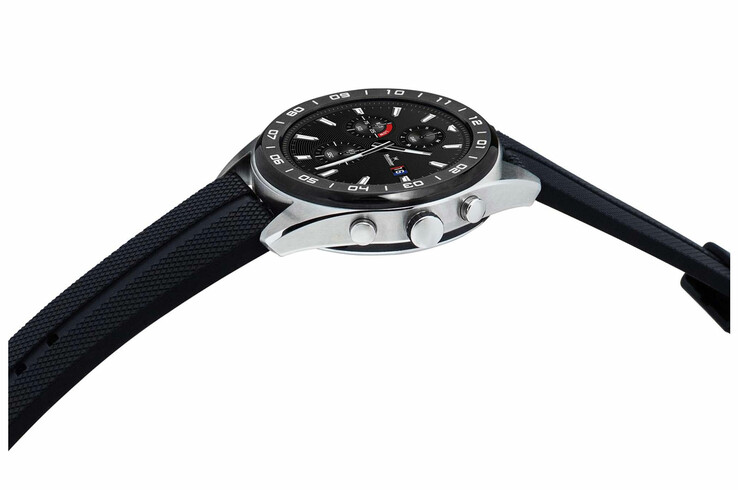 The LG Watch W7 looks like a traditional watch at first glance with its stainless-steel case and its physical hands. There is more to the W7 than meets the eye though, as the Korean manufacturer has incorporated an LC display and digital functions along with its mechanical movements and analogue hands.
The hybrid smartwatch runs Wear OS, which was previously known as Wear OS by Google and Android Wear. The W7 is equipped with a Qualcomm Snapdragon 212 SoC, which we have seen in older budget smartphones, 768 MB of RAM and 4 GB of internal storage. LG has included a 1.2-inch IPS panel and a 240 mAh battery to power the small device. The analogue hands should be able to display the time for several days after the battery has run flat too. Moreover, the W7 supports IEEE 802.11b/g/n Wi-Fi and Bluetooth 4.2.
The LG Watch W7 retails for 449 Euros in Europe and $449 in the US.
LG Watch W7
Display
1.20 inch 1:1, 360 x 360 pixel 424 PPI, Full-Touch, LCD, glossy: yes
Storage
4 GB Flash, 4 GB
, 1.9 GB free
Connections
Audio Connections: ⊖, Brightness Sensor, Sensors: Accelerometer, barometer, compass, gyroscope, magnetometer, IP68 certified
Networking
802.11 b/g/n (b/g/n = Wi-Fi 4/), Bluetooth 4.2
Size
height x width x depth (in mm): 12.9 x 44.5 x 45.4 ( = 0.51 x 1.75 x 1.79 in)
Battery
240 mAh Lithium-Polymer
Operating System
Google WearOS 2
Additional features
Speakers: ⊖, Keyboard: 2 Buttons, Crowne, USB Type-C cable, charging socket, instructions, Wear OS, 24 Months Warranty, fanless
Weight
79.5 g ( = 2.8 oz / 0.18 pounds), Power Supply: 65 g ( = 2.29 oz / 0.14 pounds)
Note: The manufacturer may use components from different suppliers including display panels, drives or memory sticks with similar specifications.

The W7 has a stainless-steel (STS316L) case as mentioned earlier and is 44.5 x 45.4 x 12.9 mm. The watch body is solidly built and is comparatively heavy at 79.5 g. The hybrid smartphone would probably look too bulky on most slim wrists, but that is the case for most 44 mm watches.
Disappointingly, the watch face is not made from extremely scratch-resistant sapphire crystal, despite its high asking price. Instead, LG has opted for Corning Gorilla Glass 3, which is used on many smartphones. The glass is also surrounded by a bezel, which LG hides by making it look like a trim ring. However, the ring cannot be rotated and is only there for aesthetics. There are two buttons on the right-hand side of the case and a crown too, which are the only physical buttons on the W7.
The smartwatch uses a quartz movement by Soprod AG and is IP68-certified to IEC 60529, which means that it is waterproof for up to 30 minutes at a depth of 1.5 m. Additionally, the W7 is dust-resistant, but the W7 is no more protected against the elements than most modern smartphones.
The W7 comes with a rubber strap that is 22 mm wide. The strap looks clean and feels comfortable on the wrist. There is a quick-release mechanism to change the strap should you wish to. The W7 uses standardised pins to connect its strap, so you are free to pair the watch with any 22 mm strap that you like, which is handy.
Connectivity
The W7 integrates a Qualcomm Snapdragon 212 SoC, but the watch is based on the older Snapdragon Wear 2100 platform rather than the current 3100 version, which offers improved energy efficiency and performance compared to the SoC in our review unit.
LG has incorporated an accelerometer, barometer, compass, gyroscope, and magnetometer too. Additionally, the W7 has a vibration motor for delivering haptic feedback for things like notifications. Unfortunately, you must adjust the screen brightness manually as LG has not included a brightness sensor. Likewise, there is no heart-rate sensor, which greatly limits the W7's use with athletes as it cannot record the data that other smartwatches can do, like BPM, for example.
The W7 uses five charging contacts for charging, which are located on its underside. LG includes a charging stand in the box, which has a Type-C port for supplying power.
Software
The W7 runs Wear OS, which Google specifically develops for wearables. You may have heard the OS referred to as Android Wear or Wear OS by Google, but Wear OS is its current branding. Our test device includes many of the features that other smartwatches include, which we have tried to detail in the screenshots below.
Please keep in mind that the W7 will only work with smartphones running at least Android 4.4 or iOS 9.3.
Wear OS can receive notifications from messaging apps like Telegram or WhatsApp, along with emails and calendar reminders. Our review unit also displays other general notifications from our smartphone too, while it also has a driving mode, which notifies you of important information like traffic updates through haptic feedback as you drive.
LG includes just eight watch faces with the W7, which is rather stingy. Thankfully, there are more to choose from on the Google Play Store should you dislike the ones that the Korean manufacturer has included.
Communication
The W7 supports Bluetooth 4.2 and IEEE 802.11b/g/n, the latter of which means that it can only connect to 2.4 GHz Wi-Fi networks. Unfortunately, LG has included precious little else. There is no NFC chip for near-field communication, which means that you cannot use services like Google Pay. Moreover, W7 has no GPS module or LTE support. In short, the W7 is poorly equipped considering its price.
Accessories & Warranty
The W7 comes in a matte black box with a USB cable, a charging cradle, a quick-start guide and a modular power supply. The latter is rated at 6 W (5V/1.2 A), for reference.
Input Devices & Operation
The W7 can either be operated using its 1.2-inch capacitive touchscreen or its crown on the right-hand side of the watch body. The crown is sandwiched between two other buttons, while the W7 also supports Google Assistant, which worked well during our tests.
Our review unit operates smoothly thanks to its SoC, and we experienced no major delays when navigating the device during testing. The touchscreen is sufficiently sensitive too.
Display
LG has equipped the W7 with a rounded IPS panel that operates natively at 360x360 pixels. The display is 1.2-inches and has a 300 PPI pixel density that makes individual pixels difficult to discern even when we look closely at our review unit.
The display gets bright too, but we occasionally struggled to read it under direct sunlight. In practical terms, this meant that we had to shield the watch before we could read the time or check notifications. The display will probably be overwhelmed by reflections during the summer too. We had no problems using the device on overcast days or in the shade.
The lack of an ambient light sensor is a frustrating omission though. The W7 has 10 brightness steps that are quick to cycle through using a menu shortcut, but a $450-smartwatch should adjust brightness automatically in our opinion.
Moreover, the IPS panel cannot individually switch off pixels like the OLED panels in the Samsung Galaxy Watch S. Hence, the former has a higher black level and a weaker contrast ratio, which makes screen content look more washed-out than it does on the Galaxy Watch S. Worse still, the W7 shines brightly in the dark or in a dark room, which is distracting and intrusive. There are no such issues with the Galaxy Watch S, as it can theoretically display absolute black tones.
Our review unit has stable viewing angles though, and its display is comparatively colour accurate.
There are two elements to the W7's battery life. On the one hand, LG states that the watch can last for up to 100 days on a single charge if left in "Just Watch Mode", which disables all smartwatch functionality. However, the manufacturer claims that the W7 will last just two full days when operating at its full capacity.
Unfortunately, LG's latter claims proved tricky to achieve, at least in our tests. We found that we could eke out two days between charges only if we used the W7 sporadically. Checking notifications and the time more regularly typically left us with 5 to 15% charge after 12 hours use, which meant that we effectively had to charge our test device daily. Worse still, the W7 can easily run flat after just 5 hours if it is constantly set to full brightness. In short, the W7 has underwhelming battery life, especially considering it lacks some of the features that its competitors possess.
Pros
+
a pleasing, tactile feel
Cons
-
disappointing battery life
-
lacklustre connectivity
Looks are a personal preference, but the LG Watch W7 looks stylish to our eyes. The hybrid smartwatch has an ageless design that resembles a classic timepiece, while its stainless-steel case helps make the W7 feel premium. The watch is surprisingly comfortable too, but it is rather large, so it will probably look too bulky for those who have small wrists.
The inclusion of analogue hands and a full digital display is novel, but its execution is lacking. The hands can block what is being displayed onscreen as text, and the UI does not reflow around them, which is frustrating. Overall, we can see the value in having analogue hands and a touchscreen display, but the W7 is not a good advertisement for the dual-functionality.
These restrictions may not put off some potential buyers, but the lack of features and the high asking price may well do. The W7 has no NFC, GPS or LTE and has only limited Wi-Fi support. Moreover, the display is LCD rather than the more versatile OLED. Likewise, LG has only used Corning Gorilla Glass 3 to protect the display instead of using more scratch-resistant material like sapphire. In short, the W7 is simply poor value for money and lacks many of the features that its competitors incorporate.
If you are interested in the LG Watch W7, then we suggest you look elsewhere unless it is being sold for a steep discount. Otherwise, you will be paying over the odds for an underpowered and under-equipped smartwatch that does less than its competitors but costs more.
There are plenty of other better smartwatches on the market currently including, but not exclusive to, the Samsung Galaxy Watch S. Unfortunately, the W7 fails in its attempts to be a good watch or a good smartwatch and is just a poor compromise between the two.
I have always been very passionately interested in mobile technologies, especially smartphones. Being a tech enthusiast means the half-life of my devices isn't exactly long, and being the latest hardware is not enough to suffice as the manufacturer and operating system play a minor role – the most important aspect for me is that the device is state-of-the-art. After posting for Mobi Test I joined Notebookcheck in 2016, where I have been pursuing my enthusiasm for technology by reviewing the latest smartphone, tablet, and accessory trends.
Prior to writing and translating for Notebookcheck, I worked for various companies including Apple and Neowin. I have a BA in International History and Politics from the University of Leeds, which I have since converted to a Law Degree. Happy to chat on Twitter or Notebookchat.