Asus ZenWatch 2 Quick Charge Edition Smartwatch Review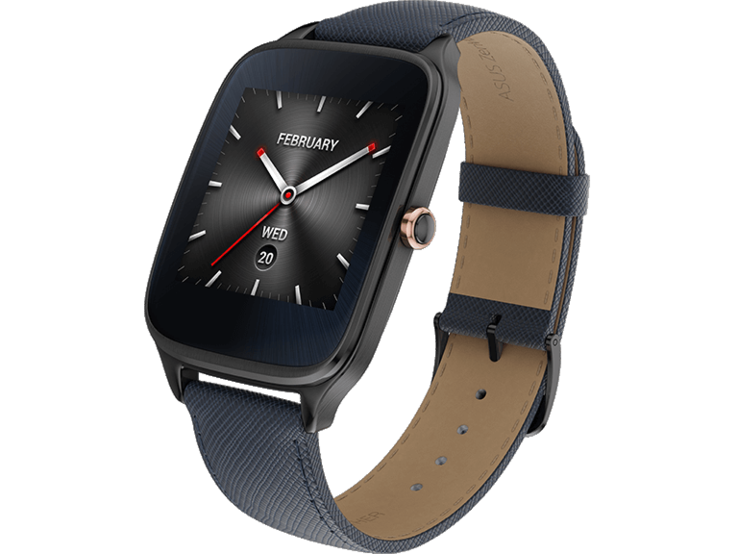 For the original German review, see here.
Everyone who remembers the 80s shares a common dream: To speak to their watch and actually be heard by someone who maybe even answers. Well, it might not yet be a speaking car, but it is possible to talk to the watch itself or even a phone contact - when a smartwatch is strapped around the wrist.
Asus' ZenWatch 2 (we are testing the Quick Charge Edition) is a smartwatch based on Android Wear that can be connected to both Android and iOS smartphones. It is available in two versions: The bigger, 1.63-inch model for men and the smaller, 1.45-inch model for women. Different watchband materials are also offered: Starting with the classic black leather band over silver metal up to an orange rubber watchband. The price depends on the watchband: The price for Asus' ZenWatch 2 WI501Q ranged from 169 to 239 Euros (~$191 to ~$270) on the Internet at test time.
The differences to the former Asus ZenWatch do not seem very big when looking at the spec sheet. In any case, the ZenWatch 2 is still offered for a really low price compared with other smartwatches: LG's Watch Urbane, Motorola's Moto 360 or Huawei's Watch are all priced at far over 300 Euros (~$339). Not to speak of Apple's watch that is sold over the counter for at least 749 Euros (~$847).
Asus ZenWatch 2 Quick Charge Edition
Display
1.63 inch 1:1, 320 x 320 pixel 278 PPI, capacitive touchscreen, AMOLED, 2.5D Curved Gorilla Glass 3, glossy: yes
Connections
Sensors: motion sensor, generic charging port
Networking
802.11 b/g/n (b/g/n = Wi-Fi 4), Bluetooth 4.1
Size
height x width x depth (in mm): 10.9 x 49.6 x 40.7 ( = 0.43 x 1.95 x 1.6 in)
Battery
1.44 Wh, 380 mAh Lithium-Ion
Operating System
Android Wear
Additional features
Speakers: installed speaker, quick charger, USB cable, 12 Months Warranty, IP 67 dust and water resistance, fanless
Weight
57 g ( = 2.01 oz / 0.13 pounds), Power Supply: 59 g ( = 2.08 oz / 0.13 pounds)
Note: The manufacturer may use components from different suppliers including display panels, drives or memory sticks with similar specifications.
Case
Our review sample of Asus' ZenWatch 2 comes with a dark-blue leather watchband that features a stylish pattern and stitched edges. The watchband has a mechanism that allows swapping it for other 22-millimeter wide bands. Despite the low price, the watchband looks impeccably manufactured and quite elegant.
Like the predecessor, the casing is made of stainless steel. It is, however, much taller with up to 10.9 millimeters at its highest point. That is a good rate compared with other smartwatches; Apple's watch is not much thinner at 10.5 millimeters. The ZenWatch 2 is comfortable to wear on the wrist thanks to the rounded underside. However, a slight curve toward the inside would have increased the wear-comfort even more. The watch is clearly felt on the wrist especially at the beginning. This is primarily true for users who normally do not wear watches.
Asus took our criticism about the just splash-water protected casing of the predecessor seriously and now offers the ZenWatch 2 with IP67 protection. Thus, it is protected against dust and can be immersed in shallow water with a depth of up to one meter for a maximum of 30 minutes. The smartwatch can therefore be taken along on an outdoor trip, especially since the casing is very rigid and protected by Gorilla Glass 3.
Connectivity
Like most other smartwatches, Asus' ZenWatch 2 comes with Qualcomm's Snapdragon 400 APQ8026. The configuration with 512 MB of working memory and 4 GB of storage is also standard. However, it should be kept in mind that the ZenWatch 2 is considerably lower-priced than the comparison models.
Asus' ZenWatch 2 sports a 6-axis motion sensor. It is thus on par with Huawei's Watch and superior to the Moto 360 with only a three axis sensor which made it a bit inaccurate in our test. However, Asus' ZenWatch 2 did not log all our steps. We also had to do at least twice the number of push-ups or similar exercises that the preloaded fitness app suggested before the smartwatch displayed 100%.
Apart from the motion sensor, no other sensors are installed, likely in favor of the low price. However, omitting the heart-rate monitor of the predecessor strongly limits the ZenWatch 2's usefulness for athletes. A light sensor is just as absent, making it necessary to set the brightness manually. Voice control is of no use here, and the somewhat awkward menu on the display has to be used for this.
The ZenWatch 2 communicates via Bluetooth 4.1 or Wi-Fi 802.11 b/g/n. Thus, it stays connected to the smartphone when the Bluetooth connection is lost as long as both devices are in the same Wi-Fi network. Furthermore, some functions can be used without a tethered smartphone, for example voice control. It is also possible for two ZenWatches to directly exchange news in the same Wi-Fi network via the "Together" app.
Software
An update was installed directly after turning on the smartwatch. Consequently, we are testing the ZenWatch 2 with Android Wear 1.4.0.2633150. This version is based on Android 6.0.1, which is the latest version of the operating system. The smartphone requires at least Google Android 4.3 Jelly Bean or Apple iOS 8.2 for Android Wear.
Apps that are installed on the smartphone and which are compatible with the watch, for example Skype or Runtastic, are automatically displayed. The "Wellness" app is preloaded and basically offers similar functions as Google Fit: Training sessions can be started with it, but they are not really fun due to the unreliable motion sensor. Besides that, it is also possible to use the smartwatch's display as a flashlight or to let the phone ring when it has been misplaced.
The Android Wear app is the counterpart for the smartwatch on the smartphone. The user can configure the watch, make screenshots, install apps or change the clock face here. Asus designs its proprietary "ZenWatch Manager" app a bit more extensively. Here, a multitude of clock faces can be selected, smartwatch settings can be made and information, such as battery state, can be viewed.
Telephone & Call Quality
As said, the ZenWatch 2 can create a real Knight Rider feeling since the smartwatch can be used directly for making calls thanks to the installed microphone and speaker. The phone app looks like the app from the smartphone, but using its keypad is only conditionally recommendable because it is difficult to tap the small numbers. It is easier to dial a number via voice control or select the contact directly.
The call quality is decent: We hear our contact quite clearly and intelligibly, but the surroundings naturally always eavesdrop. Thus, it is not very recommendable to phone with the smartwatch in a subway. Our contact also confirmed that we sound surprisingly clear even when we speak to our wrist at some distance. It is a cool feature for a secret agent or manhunt feel in any case.
Input Devices & Handling
As already mentioned several times, using the small screen is quite awkward especially when dialing on the keypad. It functions better via Google's voice control although it does not support all commands: For example, Skype calls or adapting the brightness is only possible manually. Most apps can be used as a makeshift when the smartphone is not at hand, but the smartphone is much more comfortable in everyday use.
Display
Asus installs an AMOLED panel with a resolution of 320x320 pixels. The screen is rectangular and has a diagonal of 1.63 inches. The pixel density of 278 PPI is exactly on par with that of the predecessor. Pixelation is visible in diagonal lines and the pixel grid is also seen when looking closer. The resolution and image quality is on category level in total, and the considerably higher-priced Apple Watch does not offer a much higher pixel count either.
Perfect black is achieved thanks to the AMOLED technology since single OLEDs can simply be disabled and thus do not emit light. The maximum brightness of 302 cd/m² is category average, but the Moto 360, for example, achieves much higher rates. Besides that, Motorola's smartwatch features a light sensor that our review sample cannot offer.
Most smartwatches have legibility issues due their glossy surface. It is difficult to recognize something on the screen at a brightness level of 4/5 even on cloudy days. The maximum brightness will unlikely be enough in bright sunlight; the smartwatch will have to be shaded by e.g. a hand here.
Battery Runtime
We tested Asus' ZenWatch Quick Charge Edition. That is a good omen for charging times. The charging cable is connected to the smartwatch via a magnetic connector on the underside and is generic; it is not possible to use a conventional USB charging cable. Asus promises that the battery is recharged to 60% in 15 minutes. Our review sample needed a bit longer and was fully recharged in less than an hour. That is in fact relatively quick: The predecessor needed two-and-a-half hours.
The battery supplies 380 mAh which is slightly more than the first ZenWatch and also considerably more than Huawei's Watch or Motorola's Moto 360. Only LG's Watch Urbane offers more power reserves with 410 mAh. The runtimes of smartwatches are hardly comparable with normal watches that run on one battery for months or years. The user can be happy when a smartwatch lasts several days without recharging.
That is throughout possible when using the ZenWatch 2 moderately. The battery state was 65% after twelve hours of occasional use. A second day should be possible when taking off the watch at night or turning it off. The battery was down to 75% during more intensive use, enabled Wi-Fi and running apps after about three hours. The watch should definitely be recharged at night in this scenario.
Energy can be saved when the smartwatch's screen is only enabled via the motion sensor - for example, when turning the wrist to look at the smartwatch. WiFi should also be disabled when not needed; our experience shows that this module requires a lot of power.
Pros
+
elegant and solid casing
+
dust and water resistance
+
many casing and watchband options
+
up-to-date Android Wear
+
real-world suitable battery life
Cons
-
inaccurate motion sensor
-
barely useful fitness functions
-
sometimes awkward handling
-
casing's ergonomics could be better
Verdict
Asus has brought forward a solid refresh of its ZenWatch 2 smartwatch and has also responded to criticism on the predecessor, such as the lack of water resistance. The elegant and rigid casing, the diverse models among which buyers can choose from and the high-quality impression for little money has been maintained.
Sport freaks will unlikely be happy with Asus' ZenWatch 2 WI501Q. The motion sensor hardly detects movements and other exercises such as push-ups also often overburden it. A heart-rate monitor is also absent.
Using the screen is often a bit awkward, and we were testing the larger men's model. Voice control is unfortunately not always ideal in every situation, for example settings cannot be made with it. However, that is a problem common for all Android Wear smartwatches and not a drawback specific to our review sample.
Asus' ZenWatch 2 offers a cool feature with its phone function. We also like the good battery life, stylish casing and the great price-performance ratio. However, the watch is unsuitable for athletes.
The phone feature that offers good call quality and the fact that the watch can be used unconditionally without the smartphone appealed to us. Anyone who has ever wanted to try a smartwatch, but does not deem fitness features important and wants to know what it is like to have a phone on their wrist should definitely take a look at Asus' ZenWatch 2 at this bargain price.
Update 06/16: Asus states that the QC Edition is recharged by 60% within 15 minutes. We adapted this statement.
I initially wrote about gaming laptops when I joined Notebookcheck in 2009. I was then involved with the setup of the comparison portal Notebookinfo and worked with social media concepts for large companies like BMW and Adidas, while also returning to work for Notebookcheck in 2012. Nowadays, I focus on smartphones, tablets, and future technologies. Since 2018 I have been Managing Editor for mobile device reviews, working alongside my colleague Daniel Schmidt.