Huawei Watch Smartwatch Review
For the original German review, see here.
The Huawei Watch took a long time in coming after its debut at the Mobile World Congress 2015 in Barcelona. Too bad actually seeing that the smartwatch made a superb first impression there. The hardware underneath the hard stainless steel shell is similar to that in LG's Watch Urbane. An older Snapdragon SoC is also installed here, plus the buyer gets 512 MB of working memory and 4 GB flash storage.
Huawei offers its smartwatch in three versions. Our review sample belongs to the Classic line, and features a silver-colored, matte stainless steel casing and leather wrist strap for 399 Euros (~$425). The price can climb depending on the wrist strap. The casually designed Watch Active starts at 449 Euros (~$478). The luxury Huawei Watch Elite model, with a rose gold-plated stainless steel casing, starts at 700 Euros (~$745). Over 1000 Euros (~$1065) is also possible for the latter when opting for the matching stainless steel wrist strap. It is very obvious that Huawei aims at the premium range with its smartwatch.
Find out whether the watch is worth the money in the following test report.
Huawei Watch
Display
1.40 inch, 400 x 400 pixel, capacitive touchscreen, full-circle AMOLED screen, sapphire glass, glossy: yes
Connections
Sensors: gyroscope, 6 axis accelerometer, heart-rate monitor, barometer
Networking
802.11 b/g/n (b/g/n = Wi-Fi 4), Bluetooth 4.1 LE
Size
height x width x depth (in mm): 11.3 x 52.3 x 42.1 ( = 0.44 x 2.06 x 1.66 in)
Battery
Lithium-Ion, 300 mAh, Battery runtime (according to manufacturer): 48 h
Operating System
Android Wear
Additional features
decorative packaging, charging cradle, power adapter, quick start guide, 24 Months Warranty, dust and waterproof (IP57), cold-forged stainless steel (316L)
Weight
58 g ( = 2.05 oz / 0.13 pounds), Power Supply: 61 g ( = 2.15 oz / 0.13 pounds)
Note: The manufacturer may use components from different suppliers including display panels, drives or memory sticks with similar specifications.
Case
The casing of the Huawei Watch is composed of a stainless steel alloy dubbed 316L. This steel is also used in the healthcare sector and is free of both chrome and nickel, making it particularly suitable for allergy sufferers. Furthermore, it is very resistant against chlorine substances and can therefore also be worn in the swimming pool. The IP 67 certification underlines this claim and states that the smartwatch can be immersed in one meter of water for up to 30 minutes. That places our review sample on the same level as most of its rivals.
The watch makes a slightly thick impression at first glance, but this impression quickly vanishes as soon as it is worn. The slim display bezel is compelling and adds a certain elegance to the Huawei Watch. The smartwatch's design is generally timeless, and it quite appealed to us. The underside is beveled and is made of a stainless steel ring that is only interrupted by four charging contacts. A plastic surface that contains the heart-rate monitor is in the center. The wear comfort is also very good. Nothing pinches and the user soon forgets that they are wearing a watch at all.
The crown is made of the same stainless steel and has been set in the two o'clock position. That looks good and is in fact somewhat easier to trigger than the three o'clock position. The crown has an agreeable pressure point and functions reliably. Like in the Apple Watch, sapphire glass protects the screen. It is supposed to be particularly scratch-proof and resistant.
Our review sample is shipped with a leather strap (18 mm). It is easy to replace with other wrist straps. The quick-release fastener allows simple and fast exchange while ensuring a secure hold.
Overall, the Huawei Watch makes a first-rate impression in terms of build and choice of materials. It is most likely the currently highest quality smartwatch based on Android Wear. The high-quality, decorative packaging of the Huawei Watch confirms that during unboxing.
Connectivity
The connectivity of the Huawei Watch does not present any surprises: A Qualcomm Snapdragon 400 APQ8026 supported by 512 MB of working memory operates inside the watch. It is certainly not a lush configuration compared with a smartphone, but it is absolutely sufficient for watches. The same is true for the 4 GB flash memory, with approximately 2.5 GB for the user. That is more than enough since it is reserved for apps. The system runs quite smoothly. Minor stutters might only occur during elongated scroll sections.
Both the gyroscope and motion sensor support six axes, which consequently should ensure a higher accuracy for logging fitness data and support the pedometer. We can confirm that. The smartwatch charted the data quite accurately, and not every twist of the wrist was counted as one or more steps. The heart-rate monitor records the pulse and calculates its average. The extracted data can be recorded via Huawei's apps or Google Fit.
Wi-Fi is also on board and enables redirecting notifications from the smartphone to the Huawei Watch when Bluetooth is not available. The smartwatch retrieves the necessary network access data from the phone. This feature is quite convenient when the smartphone is not always at hand and the user does not want to miss any notifications.
A modern radio standard is also supported in form of Bluetooth 4.1 LE, which has been specially optimized for wearables, and which operates more efficiently with the LTE frequencies.
Software
Google's latest Android Wear 1.3.0 operating system is installed. Smartphones that are to be coupled to the Huawei Watch have to feature Google's Android 4.3 Jelly Bean or Apple's iOS 8.2 or higher.
Not much has changed in terms of handling in the latest Android Wear version. However, considerably more apps are compatible with the operating system now. Notifications from common messenger services can be received just like emails or reminders. Even sport standings, news and other events are transmitted reliably to the smartwatch.
Forty different watch faces are included at delivery. More can be downloaded from Google's Play Store if that is not enough.
Accessories
The box that contains the Huawei Watch can also be considered an accessory. It looks good and has a high-quality feel. Although it is only lined with artificial leather inside, it makes a premium impression. Otherwise, a magnetic charging plate with non-removable charging cable for connecting the included modular power supply (5 volts, 1 ampere) is included. A brief leaflet with safety information and a quick-start guide complete the bundle.
Warranty
Huawei includes a 24-month warranty on its smartwatch.
Input Devices & Handling
The capacitive touchscreen in the Huawei Watch responds reliably and relatively fast to inputs. The sleekness of the sapphire glass is very good. The screen does not respond to touch when it is wet. That is quite practical because accidental inputs are not possible in water. The crown can also be pressed twice to be on the safe side. The smartwatch's display is then turned off completely and can only be reactivated by a renewed tap. Longer pressure opens the app selection, but that is performed faster by swiping to the right. Otherwise, pressing the crown always brings the user back to the home screen. Its pressure point is agreeably firm, but it nevertheless has a soft drop with a clear pressure point.
Display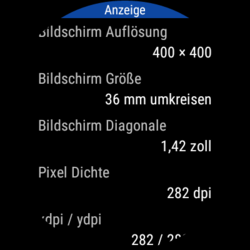 A circular AMOLED screen with a resolution of 400x400 pixels is installed in the Huawei Watch. This resolution states the maximum pixel count on both the horizontal and vertical axes. It has a diameter of 1.4-inches, which equals a pixel density of around 286 PPI. The sharpness is relatively high, but single pixels can still be seen when looking closer.
The Huawei Watch does not feature an ambient light sensor. Consequently, the user will have to set the display's brightness manually. Five levels ranging from 47 to 326 cd/m² are possible. Even if the maximum brightness sounds low, it must be considered that it is an OLED screen that has an absolute black level, and its contrast ratio is therefore virtually infinite. The supposedly dark screen's enormous contrast more than compensates for the lack of brightness compared with conventional LC displays.
The Huawei Watch does a surprisingly good job outdoors. Content was well-legible although we almost exclusively used brightness level 4 (202 cd/m²) in our test period. We only had to additionally shadow the screen with a hand in direct sunlight.
Energy Management
Battery Runtime
The 300 mAh battery in the Huawei Watch is not particularly big. Only Samsung's Gear S2 (250 mAh) has an even lower-capacity battery. The ones in Asus' ZenWatch 2 (400 mAh) and LG's Watch Urbane (410 mAh) are considerably bigger. Huawei states a battery life of up to two days for its smartwatch.
This allegation is not at all unrealistic. Although the Wi-Fi feature in the Huawei Watch also consumes quite a lot of power, we did not want to turn it off. Users who disable it, and do not always have the display on, should achieve the specified two days when selecting a lower screen brightness.
We almost always easily managed a day using brightness level 4, enabled Wi-Fi and permanently illuminated screen in routine use, and even had a rest capacity in the evening (up to 27%). The runtimes will thus strongly vary according to usage, but everyone should effortlessly manage a day. However, recharging every night is still a must, and thus we attest the Huawei Watch to only have an average battery life in total.
Pros
+
high-quality material selection
+
easy to exchange wrist straps
Cons
-
only middling battery life
-
Wi-Fi not very efficient
-
no ambient light sensor
Verdict
The Huawei Watch hardly differs from other current smartwatches like LG's Watch Urbane or Asus' ZenWatch 2 technically. Huawei has developed an efficient product with a somewhat longer runtime than, for example, the Urbane despite a comparatively small battery. However, the Huawei Watch not only wants to be a simple smartwatch. It wants to be seen as a piece of lifestyle - and the Chinese manufacturer has also accomplished this goal.
The watch features a plain yet attractive design and is composed of very high-quality materials. No other rival based on Android Wear offers such high-quality stainless steel and sapphire glass. Plus it comes with a good screen, up-to-date Bluetooth 4.1, and integrated Wi-Fi.
The Huawei Watch soon feels like a watch, and it offers all features of a modern smartwatch.
The Huawei Watch simply makes a consistent impression while successfully performing the balancing act between casual, classic and elegant. That, unfortunately, also has its price. Buyers who are only interested in the technical aspects will likely be better served with the new ZenWatch.
As a child I was fascinated by my Commodore 16, and this sparked my enthusiasm for computers. Using my first modem, I surfed the BTX videotext system and later the World Wide Web. I have always been captivated by the latest technologies, and this is especially true for mobile devices such as smartphones and tablets. I've been part of the Notebookcheck team since 2013 and have also on occasion written for Notebookinfo.de, and I'm looking forward to testing new innovations for our readers. I like to spend my spare time indulging in photography and barbecues and being with my family.