The Mi Surface is Xiaomi's new 34-inch gaming-grade monitor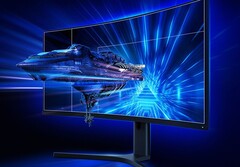 Xiaomi has announced the existence of the Mi Surface via its Weibo channel. It is a 34-inch 1500R-curved monitor with a 21:9 aspect ratio. This new panel is also rated for AMD FreeSync and 121% of the sRGB color space. The Mi Surface is to be released on October 21, 2019.
Xiaomi has teased its new monitor, known as the Mi Surface, on its official Weibo account. With its AMD FreeSync support, it seems distinctly directed at the gaming market. Besides this, it also has a 1500R curvature for immersive screen use.
The Mi Surface is 34 inches in diagonal length, and has a cinematic 21:9 aspect ratio. Xiaomi claims that it covers 121% of the sRGB color gamut. Its refresh rate is 144 hertz (Hz), which may be a little underwhelming in 2019. This monitor has a resolution of 3440x1440.
It will go up for its first round of pre-orders on October 21, 2019 in China. It may be a competitive new entrant in its market on this date, as it will be priced at 1999 yuan (~US$282). Xiaomi may hope it will give buyers in that price range an edge in their first-person shooting titles.