Deal | The Lepow FHD USB type C portable monitor is going on a 30% off sale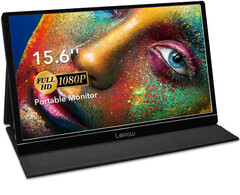 Lepow has announced a 30% discount on its portable monitor as of tomorrow (November 30, 2019). This product is a 15.6-inch display with a built-in stand-cover and dual speakers. It has USB type C and mini HDMI ports so as to be compatible with mobile devices, PCs and consoles.
Lepow is a brand that makes accessories and peripherals for PCs and smartphones. Its 15.6-inch portable monitor has an IPS panel with a 1080p resolution. It also has an innovative in-built polyurethane stand that can also flip around to its front so as to act as a case of sorts when not in use.
This ancillary display also has dual speakers, albeit ones that fire from either side of the monitor. Its USB type C port may enable compatibility with a range of devices, PCs and consoles included. It also has a mini HDMI input, which may be less convenient for those without the requisite cable.
This screen also supports HDR in compatible content. Lepow has revealed that this product will be included in a 30% discount event, which starts on November 30, 2019. Currently, this 15.6-inch portable monitor goes for US$170.99 on Amazon. It will also come with 3 complementary cables, mini-HDMI to HDMI included.