Renders of Xiaomi Mi Band 4 leaked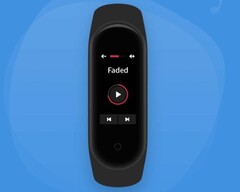 Some renders of Xiaomi's Mi Band 4 fitness tracker have been leaked online. The wearable now appears to have a color screen, which will be a new feature in the Mi Band series. It looks slightly refined in comparison to its predecessor, and it is expected to be released within the next few months.
Renders of the Xiaomi Mi Band 4 activity tracker have been uploaded to the SlashLeaks website. There are five images in total that give a good idea of what to expect from the Chinese manufacturer's fitness-focused wearable at least in terms of how it looks. It seems sleeker than the Xiaomi Mi Band 3 and sports a color display.
There's little accompanying text with the images, although machine translation of the few Chinese characters available suggests the Xiaomi Mi Band 4 will come with a handy alarm, a music player, and Bluetooth connectivity. Two models of the fitness tracker are expected: One with NFC and one without. The Mi Band 4 could also come with Xiaomi's virtual assistant, Xiao AI.
The actual launch date and price for the Xiaomi Mi Band 4 have not been revealed, but it has been reported the fitness wearable could be available very soon and should be offered at the typical affordable price Xiaomi has become renowned for. The Mi Band 3, which is waterproof and has a heart-rate sensor, can be picked up for around US$30.