Samsung Galaxy Buds: latest update adds voice-control via Bixby, other new features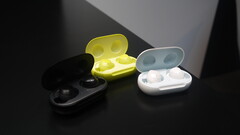 Samsung designed the Galaxy Buds as a wireless audio companion for devices such as the Galaxy S10s. However, they have recently improved in this capacity through a new software update. It allows the user to operate them using Bixby alone if they choose.
Samsung introduced its latest wireless audio products, the Galaxy Buds, with the Galaxy S10 series of smartphones. These new truly wireless earphones have a touchpad that enabled some level of control over the sound coming through them, as well as Ambient Sound, a way of mixing the surrounding environment in with music so as to stay aware of both.
Both of these features have been enhanced with the latest software update for the Galaxy Buds. It allows for a range of actions that can be enabled by single-, double- or triple-tapping the touchpad on one or both of the earbuds. This new update also allows the user to tell Bixby (Samsung's in-house virtual assistant) to turn Ambient Sound on or off.
This new software update can be accessed via the Galaxy Wearable dedicated app while the earbuds are active. Alternatively, a user could connect them to a PC and download the update via an app called Galaxy Buds Manager.