The new Jabra Evolve 65e is a pair of neckbuds with "professional-grade sound quality"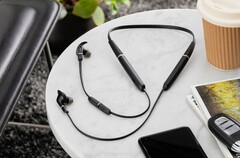 Jabra has released its latest generation of neckbuds, the Evolve 65e. The audio company claims that this wireless set of earphones has consumer-grade comfort with professional levels of audio. This product has attained Skype for Business and UC certification, which may appeal to the business customer in need of mobile connectivity.
Jabra has launched its new Evolve 65e neckbuds. Although the company claims that this product has "consumer-grade comfort", with oval earbuds, gelatinous ear-buds, wing-tips and soft memory wire, it is clearly aiming the device at professional customers.
For example, Jabra has secured UC audio and Skype for Business certifications for the Evolve 65e wireless earphones. This is due to their four-microphone system: two to capture voice data and two to optimize surrounding ambient noise. This data feeds into DSP algorithms in order to find the ideal balance of voice and non-voice audio. Therefore, the idea is that the professional can listen to calls while also remaining alert to the environment.
The Evolve 65e neckbuds integrate the Jabra Link 370 USB Bluetooth adapter. It gives a 100-ft Bluetooth range while connected to a PC, or a 33-ft range while paired to a smartphone. This technology also allows for simultaneous multi-device pairing, so that a user can take calls on either their laptop or phone. The Jabra Evolve 65e headset should be available now, and cost US$200 for a pair bundled with a Jabra Link 370 dongle.