The best USB microphone is made by Blue: new analysis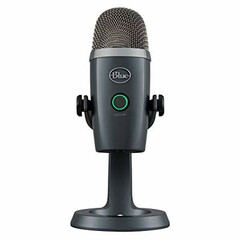 In a world where everyone seems to be a streamer or caster or some kind, a USB microphone may be a viable purchase. They combine the possible advantage of improved audio with a power source that is already built into your machine. A recent "data-driven" review puts the Blue Yeti at the top of a new list of the best of these devices.
In 2019, pretty much anybody could go out and be a Twitch streamer or podcaster tomorrow. However, it may help to have decent audio while running such shows, especially while doing so live. This is where external microphones may come in handy. RAVE Reviews, which claims to rank products on the basis of "advanced data-driven analysis", asserts that those devices that can connect via USB are a straightforward and advantageous way of gaining a sonic edge on the competitors on a given platform.
RAVE may have a point: for example, Audio-Technica acquired Blue as a subsidiary so as to pack advanced sound-capture into relatively small packages such as USB mics. In the 2010s, they are capable of omnidirectional or bidirectional audio recording, but can also restrict the same to 'heart-shaped' (or cardioid) areas immediately in front of them so as to better isolate and amplify speakers.
Therefore, RAVE has placed the Blue Yeti USB mic at #1 as they ranked it and its competitors for 2019. At a price of US$130, it does not require SD cards as some other similar mics do, and supports both Windows and Mac. Audio-Technica itself came in at #3 for its $149 AT2020USB+. Unsurprisingily, the RODE name was up there too at #2 for its NT-USB ($180).
However, if the new RAVE review had one lesson, it was that USB mics also still come with compromises and caveats. For example, the Blue Snowball is apparently the best budget option at $70, but may still allow some unwanted noise and has a prominent, distracting LED. The Apogee Mic 96k (#9, $199) would probably be the best all-rounder, were it only compatible with Windows as well as Mac. The RODE may be second-best, but also has a rather flimsy build-quality, and is cardioid only.
Finally, it seems wireless standards might prove an advantage in this general category, as RAVE points out that many of these mics have overly short inbuilt USB cables or tripod stands with limited ranges of movement. Nevertheless, USB mics may have a viable use-case in many online pursuits, and now have a useful ranking to reference when considering buying one.