OPPO reportedly confirms 10X zoom and 48MP camera for new Reno line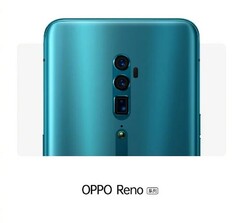 OPPO has apparently released a promotional poster detailing the new carmera set-up of the upcoming Reno phone. It includes possible references to the long-awaited 10X zoom feature, as well as a main rear camera that is the 48MP Sony IMX586. The other two are a super-wide-angle 8MP module, accompanied by the 13MP shooter that will contain the new kind of zoom technology.
GizmoChina has posted a new image that may consolidate many rumors surrounding the upcoming Reno launch event. The blog claims this graphic comes straight from OPPO and verifies the speculation that this new phone will be the first to incorporate the OEM's ground-breaking 10X zoom feature.
Much like the solution found in the new Huawei P30 Pro, this technology works by bouncing the relevant light data at right angles through lenses mounted sideways within the phone's chassis. This boosts the P30 Pro's physical close-ups to 5X; however, OPPO asserts that its version can manage double that value.
The 10X module will apparently be incorporated into a 13MP module. It will be joined by an 8MP shooter equipped with 120-degree wide-angle technology, and finally by a 48MP sensor from Sony. Should this poster be accurate, the first Reno-line phone may compete effectively with the P30 Pro itself, as well as with the Samsung Galaxy S10 or S10 Plus.
This phone is rumored to be released with the Snapdragon 855 processor, 5G and dual GPS for improved real-time smartphone mapping. However, there may also be a variant of the same with a Snapdragon 710. At whichever device tier, it is set for release in China on April 10, 2019. This will reportedly be followed by a European launch event on April 24.