Oppo Reno leaks out with unique pop-up camera design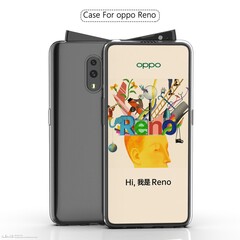 Oppo's forthcoming Reno flagship smartphone has been leaked in full by via a case maker through Slashleaks. The device shows a premium truly all-screen smartphone that takes a unique approach to incorporating a pop-up selfie camera.
Oppo has had the launch of its flagship Reno smartphone spoiled by case maker via Slashleaks. Said to be the first flagship smartphone from Oppo to feature the top-of-the-line Qualcomm Snapdragon 855 octa-core processor, the device is a true all-screen smartphone with minimal bezels all round. To create what looks set to be a stunning viewing experience, Oppo has created a never before seen approach to its pop-up selfie camera.
While some pop-up selfie camera smartphone from companies including NEX have had question marks raised about the durability of their periscope-like designs, Oppo's approach looks to be more resilient while also offering greater ease of use when popping it back down after use thanks to its increased visible surface when active. The case design is also notable for including what looks to be speaker grills for an earpiece integrated into the top frame of the device.
The Reno display is expected to be a Super AMOLED type and 6.4-inches diagonally with in-display fingerprint sensor. Rumors also point to a high-quality dual-camera set up with a 48+5 MP arrangement with a high-tech 10x zoom capability. Battery capacity is rated at 4,065 mAh, which should also comfortably power the device through a full day. It is also possible that Oppo could ship a 5G-capable variant, but nothing concrete has been established in this regard. The Reno is certainly shaping up as an attractive flagship contender.