Portable Tesla Wireless Charger surfaces online and it's not cheap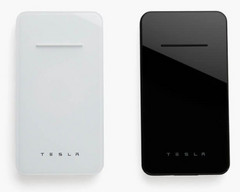 The Tesla Wireless Charger surfaced on the company's official store but was removed after less than a day. This power bank features 5 W wireless charging and USB Type-C wired charging at 5 V and 1.5 A, has a rather modest capacity of 6,000 mAh, but it lives up to the Tesla name and sports a not-so-friendly US$65 price tag.
Tesla fans who cannot afford one of the company's cars yet will soon be able to get the brand's first wireless charger that has been listed — apparently by mistake — on the official Tesla Store earlier this week. Simply labeled "Tesla Wireless Charger," this accessory has a 6,000 mAh capacity and is apparently supposed to go on sale for US$65.
The first Tesla power bank was unveiled in November 2017 and has a really low capacity of just 3,000 mAh. However, that did not stop Elon Musk's company to stick a US$45 price tag on it. The upcoming Tesla Wireless Charger is US$20 more expensive and can provide 5 W wireless charging (much lower than the 9 W provided by Samsung's wireless charging pad) and 5 V 1.5 A wired charging via an USB Type-C cable (also lower than most bundled phone chargers which deliver 5 V 2.1 A charging).
Those on a tight budget can easily grab portable wireless chargers with at least 10,000 mAh for half the price, but those lack the Tesla logo and design. In most cases — and power banks are no exception — I always go for the best deals I can find to suit my needs so I wouldn't buy this Tesla accessory in a million years. However, I am sure some might enjoy having one. Now, we only need to see when will the Tesla Wireless Charger return online — after all, maybe Tesla decides to decrease that price a bit.
How much are you willing to spend on the Tesla Wireless Charger? Let us know in the comments.