MWC19 | Sony shows its 5G phone prototype off at MWC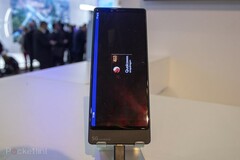 Sony has unveiled its own foray into 5G tech at the Mobile World Congress (2019). It is a phone that, with its 21:9 aspect ratio, resembles the new Xperia 1 closely. The OEM did not offer much detail on this device, besides that it is powered by the Snapdragon 855 and runs the X50 modem.
Sony has put its own first 5G device on show at the Mobile World Congress 2019 (MWC2019). It is a smartphone that, according to the OEM, is only known as AG-1. The company has indicated that it runs on the Snapdragon 855, as with the Samsung Galaxy S10 5G. Like this device, it also incorporates the Qualcomm X50 modem for its 5G functions.
Sony asserts that the AG-1 can use both the sub-6GHz and 5-millimeter wave protocols that are associated with the next-gen radio bands. It also appears to run Android 9 (Pie). Besides this, it has a markedly tall appearance due to its 21:9 aspect ratio, which is also found in the new, 4G Xperia 1. On the other hand, Sony representatives did mention that the company may not necessarily stick with these esthetics as they continue to develop their first 5G phone in the future.
However, Sony did not offer any indications as to when finished products based on the AG-1 will be available for sale. As the X50 modem now has a second generation, the X55, it is to be hoped that the Japanese electronics giant will not wait too long to release this initial attempt to get into the emerging 5G market.