The Samsung Galaxy S10 5G has even more cameras than the S10+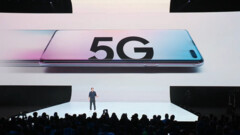 Samsung also devoted some of its latest launch event to 5G and its potential in the future of telecommunicatons and online life in general. This led to the unveiling of the Galaxy S10 5G. It has an extra 3D-sensing module on its rear panel, in addition to the three cameras also found in the S10 and S10+.
Samsung also introduced its first 5G phone at its most recent Unpacked event. It is a variant of the Samsung Galaxy S10, with some of its own specs in addition to its next-generation connectivity. The OEM also revealed a number of carrier-partners who will offer this device in its stores. In accordance with some pre-release rumors, they include Verizon.
The Samsung Galaxy S10 5G will have a 6.7-inch screen and a 4,500 mAh battery. These specs exceed those of even the Galaxy S10+, and are presumably in place to accomodate the possibilities - and demands - of 5G connections. The 5G variant also has 4 rear cameras to the S10+'s 3. The additional module is a 3D sensor for improved depth-sensing. Samsung asserts that this will enhance augmented-reality functions on the phone, which are, again, facilitated by 5G. This variant also appears to have an Infinity-O display with a different type of cut-out for the front-facing camera: it has a 'pill' shape, but one that may be longer than that of the S10+. Samsung did not address this inconsistency during its launch.
The company's presenters did not mention the price or availability of the 5G S10 during Unpacked 2019. However, it is reasonable to presume it will at least equal the S10+, which was revealed to start at US$999, in terms of cost. Samsung also failed to outline its color or storage options, although it was shown in the prismatic white that is also an option for the other non-12GB S10 variants.