First hint that Samsung Galaxy S10 & S10+ are doing better than Galaxy S9 & S9+ at preorders has surfaced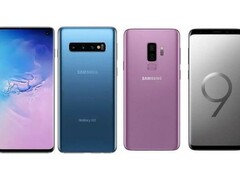 The Samsung Galaxy S10 and S10+ recently went up for pre-order in China. According to the reliable tipster IceUniverse, they raked in twice the numbers in this process compared to their predecessors in a fraction of the same time-frame in this market. This suggests that the 2019 line is being received better than last year's already.
The well-respected tipster IceUniverse has claimed that the new Samsung Galaxy S10 line has already won a decisive battle against its predecessors, the Galaxy S9 and S9+. In a Tweet written yesterday, the leaker wrote: "In China, Samsung just opened the S10 pre-sale, Samsung S10/S10+ 2-hour pre-sale = S9/S9+ 24-hour pre-sale × 2". This suggests that the Galaxy S9 line is associated with half the pre-orders in this market over 24 hours compared with their replacements over a twelfth of that time.
This is a remarkable and bold statement of the enthusiasm for the Galaxy S10 series, especially compared to that for last year's model. The latter was seen as distinctly incremental; however, the 2019 version has an appreciable amount of genuinely novel features. These include the improved, ultrasonic fingerprint sensor; the new ultra-wide rear camera module and, of course, the punch-hole for the selfie shooter.
On the other hand, IceUniverse did not cite anything to back up this new statement on the Galaxy S10 series' preliminary sales figures, or for the comparison with those of the S9 and S9+. In addition, any superiority in terms of market share will be diluted somewhat by the S10 line's new variants. It now has 4, compared to the S9 series' 2 (not counting dual-SIM versions). However, ultimately, this increases Samsung's chances of doing better with its early-year flagship than it did in 2018.