The Samsung Galaxy S10e is available on Boost Mobile from today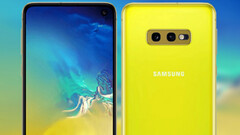 The Samsung Galaxy S10e is one of the new additions to the flagship series. It has the smallest screen (and price) of all its variants, yet retains many of the new features associated with it. The S10e has been made available on Boost Mobile today (March 8, 2019) at an out-right price of US$749.
Boost Mobile has launched the Samsung Galaxy S10e on its service. This budget-flagship will be US$749 through the carrier. However, it also has a range of deals for its customers. The Galaxy S10e may be a good fit for those who want premium specs in a smaller form factor. With a display size of 5.8 inches, it has been pitted directly against the iPhone XR. However, it may beat the Apple option in some regards.
Unlike the XR, the Galaxy S10e has a fingerprint sensor - even if it is side-mounted and not under the display as in its siblings. This new phone also shares the novel property of Wireless PowerShare with the rest of its series. It also has a better screen resolution, more cameras and a bigger battery than the iPhone. Therefore, it may make a compelling case for many Boost customers.
Those with an existing monthly plan who have made at least 12 consecutive on-time payments could buy their S10e through BoostUP!. This instalment plan involves paying $150 plus taxes upfront, then $33 per month for 18 months. Alternatively, new customers who go in for an unlimited plan that costs $50 or more per month can get the same $50 off the full price of the phone. Finally, those who opt for a 3-4 line family plan can also get this discount. The S10e is available with these deals from today (March 8, 2019).