The GoPro HERO7 Black now has a limited-edition variant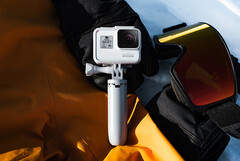 The HERO7 Black is the top-spec'd SKU of its GoPro camera series. It is now available in a limited-edition alternative finish, Dusk White. This version will be released on March 3, 2019 on gopro.com and selected retailers worldwide.
The GoPro HERO7 line comes in three SKUs: White, Silver and Black. They differ in terms of features and functions as well as colors. Of these, the HERO7 Black is the best-equipped. It is the only one with a 12MP sensor, and the only one to capture video at 4K/60fps. 8x slow-motion and live-streaming to Facebook or YouTube is also exclusive to the Black model.
GoPro has decided to deviate from this scheme slightly by releasing this model in a new color-way: Dusk White. Like the Black variant, this version of the HERO7 can also use 'HyperSmooth' video to avoid excessive shakiness while filming. It also has a little e-paper front screen that displays recording times, remaining space on an SD card and the camera's battery level in addition to the rear-facing touchscreen.
Like all HERO7 cameras, it measures just 62.9x44.9 millimeters and weighs 116 grams. The new Dusk White limited edition is also offered with the new lanyard/case combo developed in partnership with MotoGP star Valentio Rossi. This new accessory is neon-yellow, and also comes emblazoned with Rossi's racing number (46). The GoPro HERO7 Dusk White will cost US$399.99 on launch.