GoPro extends its Trade-Up program to the European Union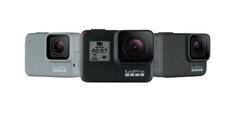 GoPro has a history of allowing its customers to trade their existing cameras in for something off the cost of a new model of this brand. However, this offer has never been available in the European Union's (EU) member-states before. This has now changed: customers in these 28 countries can now "trade-up" their cameras for €100 (about US$112) off a Fusion or Hero7 Black's price.
GoPro's Trade-Up program is an online platform by which customers can exchange older devices for a new action-cam of this brand. Consumers can trade predecessors of new models such as the Hero7 line-up, or many other digital cameras from other manufacturers, in order to avail of this deal. However, it has not been available to those in the EU - until now.
Fans of the premium action-cam brand in these 28 countries can now access the Trade-Up program in their locations. Currently, it offers €100 (US$112, or the equivalent in countries that do not use the euro) off a new GoPro Fusion or Hero7 Black in exchange for one's old device.
GoPro states on its relevant web-page that the make, model or condition of the camera to be exchanged via the program will not affect a customer's eligibility for the program. However, the company will not ship the new camera as ordered until it receives the product to be traded for the reduced price. At the time of writing, successful Trade-Ups would see a Hero7 Black sold at €329.99 (~$370) or a Fusion at €529.99 ($594).
Working For Notebookcheck
Are you a techie who knows how to write? Then join our Team! Especially English native speakers welcome!
Currently wanted:
News and Editorial Editor - Details here