MWC19 | LG officially reveals the V50 ThinQ 5G and its optional Dual Screen (hands-on photos)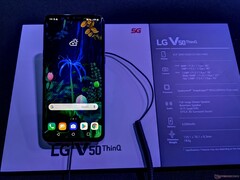 LG has unveiled the V50 ThinQ 5G flagship smartphone. The multimedia-devouring powerhouse is unsurprisingly 5G ready and houses a Snapdragon 855 behind its 6.4-inch QHD+ OLED display. For more enhanced content consumption, there is an optional Dual Screen for the V50 that will offer a greater viewing area for gamers or film fans to enjoy.
The LG V50 ThinQ 5G flagship smartphone has been announced at MWC19. The South Korean manufacturer seems to have targeted smartphone users who like to either game or watch a lot of videos on their device, as the 6.4-inch V50 comes with a 19.5:9 QHD+ OLED FullVision (3120x1440; 564 ppi) display.
LG also wants to attract those interested in photography by giving the V50 ThinQ 5G smartphone a dual selfie camera setup of 8 MP + 5 MP and a rear-facing triple camera system that features 16 MP (wide) + 12 MP (standard) + 12 MP (telephoto) sensors. As mentioned above, the V50 is 5G-capable, and it also sports 6 GB RAM and 128 GB storage.
The optional Dual Screen seems to be LG's answer to the growing foldable fad. The 6.2-inch FHD OLED (2160x1080) accessory can be used to augment the existing display in the V50 ThinQ 5G. It's easily connected to the smartphone via three pogo pins, and it only weighs 131 g (the V50 weighs 183 g). No prices have yet been given for the V50 and the Dual Screen, but LG's first 5G smartphone should be available in the US with the carrier Sprint in "the coming months".