LG will announce a 5G smartphone powered by the Snapdragon 855 SoC at MWC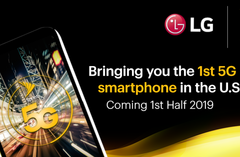 The first 5G smartphone made by LG will be revealed at MWC on February 24. It will be powered by Qualcomm's Snapdragon 855 SoC and will feature a bigger vapor chamber, suggesting the SoC will probably run at overclocked frequencies. Additionally, it will come with a 4,000 mAh battery, so there is a possibility of seeing a larger screen, as well.
The two most prominent technologies that will be showcased at MWC this year have to be foldable phones and 5G-compatible devices. We already know that LG is working on foldable phones, but it looked like the South Korean company may not showcase any 5G devices this year, since the G8 model was already announced without 5G support. However, LG has just announced that it will introduce a separate lineup of 5G smartphones later this year and it will showcase them at MWC next month.

In the press release, LG also mentioned a few interesting specs for the new 5G smartphone. Besides being powered by the latest Snapdragon 855 SoC from Qualcomm, the phone will also feature a new vapor chamber 2.7 times the size of the one from the V40 ThinQ model. This probably means that the new 5G model will get factory overclocked frequencies for increased performance.

LG's 5G smartphone will get a 4,000 mAh battery, which is 20% larger than the 3,300 one from the LG V40 ThinQ. The South Korean company is looking to strengthen its partnership with the Far East, North American and European partners that are ready to launch 5G networks this year. Moreover, LG promises that the 5G connections will not drain the batteries faster, so the bigger batteries may actually be added for larger displays and faster SoCs.

The press release ends by mentioning that the LG MWC 2019 Premier event will take place in the CCIB building on February 24 at 8 AM GMT.