LG's first 5G smartphone may be the V50, not the G8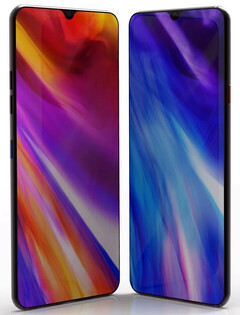 A recent report in the South Korean outlet ETNews has asserted that the G8 ThinQ will be the first flagship to be released by LG this year. However, it will be passed over for 5G compatibility in favor of the V50 ThinQ, which will be launched a month after the G8. The report also speculated that LG will discontinue the G ThinQ series next year.
LG is one of many OEMs linked to the possibility of releasing 5G phones in 2019. It is also associated with the G series of flagship phones and the V line of flagship phablets, to which the suffix ThinQ has also become appended in the last few years. ETNews have released a report claiming that the G7 ThinQ's successor will be released in March, about a month before the V40 ThinQ's own replacement is launched. However, both may also be introduced at MWC 2019.
Considering LG's typical mobile device life cycle, this is not unusual. More surprisingly, the ETNews article also alleged that the V50 ThinQ will be the first device from the OEM to have 5G capabilities, not the G8 ThinQ. Furthermore, it also indicated that LG is planning to consolidate its two flagships into one series in the future. This may mean that this is the last year for the G ThinQ line.
Considering the lack of uptake in years when LG has tried to introduce significant innovations into the G series (G5, anyone?...No? still?) and the generally high retail prices for these phones at launch, it may make sense that it will finally be laid to rest soon. On the other hand, the Korean news report also stated that the 5G V50 ThinQ could cost as much as 1.5 milllion won (or about US$1341) on launch. Therefore, it seems that LG may be taking another kind of considerable risk before the first half of this year is out.