CES 2019 | Lexar announces first commercially available 1 TB SD card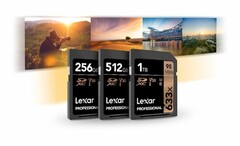 The Lexar Professional 633x SD card, announced at CES earlier today, is the largest capacity SD card available to date at a whopping 1 TB. Despite its large size, the card is somewhat disappointing in performance; the 633x is rated at 95 MB/s write and 70 MB/s read. It also supports VSC Class 30, which means it should hit at least 30 MB/s when recording video. This should be adequate for 4K footage, but higher bitrates and higher resolutions may suffer.
Working For Notebookcheck
Are you a techie who knows how to write? Then join our Team! Especially English native speakers welcome!
Currently wanted:
News and Editorial Editor - Details here

Photographers and videographers that constantly swap SD cards throughout busy workday may be in luck. Lexar announced the world's first commercially available 1 TB SD card at CES earlier today.
The Professional 633x SDHC/SDXC card is now available in a 1 TB size, the largest SD card available to consumers yet. The card is marketed at professionals, specifically videographers, due to its massive storage capacity. To put it in context, the 1 TB SD card should hold somewhere between 30-35 total hours of 4K video footage, depending on bitrate and framerate.
Despite its large size, videographers may find the card a bit limiting, especially for recording at 4K or higher. The Professional 633x SD card's performance is rated at up to 95 MB/s read and 70 MB/s write. The Video Speed Class (VSC) is rated at 30 MB/s write, which may be a bottleneck for high bitrate, high framerate video.
Still, there currently isn't a competitor card that can match the Lexar Professional 633x in sheer storage capacity. Lexar knows this and has set the price to be rather high at US $500. The card should become available at retailers in the coming weeks.