SanDisk unveils the world's first Application Performance Class 1-compliant microSD card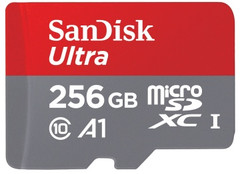 The 256 GB SanDisk Ultra microSDXC UHS-I Premium Edition memory card is optimized for smartphones, being the first one compliant with the A1 specifications. This product will hit the market this month for $199.99 USD and can manage up to 1,500 random reads and 500 random writes per second.
When talking about the bottlenecks of contemporary smartphones, one can only think about microSD memory cards. While most Class 10 products are good enough for most users, SanDisk is pushing the limits higher with the first microSD card that meets the A1/Application Performance Class 1 requirements of the SD 5.1 specification issued by the SD Association.
Known as SanDisk Ultra microSDXC UHS-1 Premium Edition, this memory card is available only with 256 GB of storage space for now. This is enough for 24 hours of full HD video footage. Transfer speeds can go up to 95 MB/s, and the performance figures also include 1,500 IOPS random reads and 500 IOPS random writes. Smartphone users that run Android Marshmallow or later can select the microSD card as the preferred storage and for many handsets, this A1-compliant card can bring a solid increase in speed, especially when launching apps or recording/playing high-definition video content.
The new card is compatible with the SanDisk Memory Zone app for easy content backup and management. The app is freely available for download via the Google Play store, while the 256 GB SanDisk Ultra microSDXC UHS-1 Premium Edition is expected to hit the market later this month carrying a price tag of $199.99 USD.