Qualcomm introduces the Snapdragon XR2 — the world's first 5G XR platform with 7 concurrent tracking cameras, 2x CPU and GPU performance, [email protected] Hz display per eye, and added AI goodness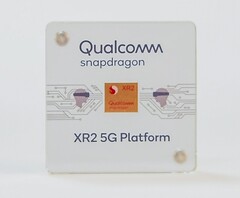 When Qualcomm revealed a reference VR headset based on the Snapdragon 845 back in 2018, we had seen modest resolutions such as 1024 x 1152 per screen running at 120 Hz with foveated rendering. Fast forward to today and we have the Snapdragon XR2 platform — the world's first 5G extended reality (XR) platform that offers a multitude of improvements over previous generations across visuals, audio, and interactivity.
Visuals
The XR2 gets a nice upgrade in terms of graphics processing with 1.5x pixel and 3x texel rates while including features such as foveated rendering with eye tracking and variable rate shading for smoother refresh rates. Each eye can now be offered with up to 3K resolution at a 90 Hz refresh rate. The Snapdragon XR2 also supports 8K 360° video playback at 60 fps (or [email protected] fps) with support for HDR10 and HDR10+. The overall latency has been reduced for a more immersive AR experience.
Interactivity
The Snapdragon XR2 platform supports a total of seven concurrent cameras and a custom computer vision processor for added immersion in virtual environments. These cameras enable real-time head, hand, body, eye, facial, and controller tracking with low latency for an immersive XR experience.
AI and 5G
The Snapdragon 865 boasts of 15 TOPS of AI performance and the XR2 platform makes good use of all this AI goodness. The XR2 uses onboard AI processing for 3D reconstruction, semantic segmentation, object recognition and tracking, voice recognition, and more. Native 5G connectivity offers a high-bandwidth, low-latency connection and a much better sustained network performance.
Source(s)
Qualcomm Snapdragon Tech Summit
Qualcomm Press Release