OnePlus 8 Pro may have a 120Hz display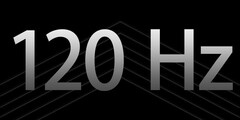 A new rumor claims that the OnePlus 8 Pro will feature a 120Hz display. While this rumor comes seemingly out of left field, it's not out of the question for OnePlus to continue to push high-refresh rate displays in its handsets. Considering the success of the OnePlus 7 Pro's 90Hz panel, a 120Hz display may give the OnePlus 8 Pro the edge it needs over the competition.
High-refresh rate displays are the latest craze in the smartphone world. Once relegated to gaming-focused smartphones, the OnePlus 7 Pro and Google Pixel 4 have pushed high-refresh rates into the mainstream with 90Hz screens. However, OnePlus may push even further next year with the OnePlus 8 Pro; a new rumor claims the handset will feature a 120Hz display.
One huge disclaimer before we continue: this rumor comes from one tipster who claims to have inside sources. Max J., a self-proclaimed "industrial leaker," posted a tweet yesterday of an image of the phrase "120 Hz" with the caption "Be a 'pro.'"
There is little context to this tweet, and we have yet to see any other rumors or leaks to corroborate this statement. However, OnePlus routinely puts at least a few high-end features in its aggressively-priced handsets, so a 120Hz AMOLED panel isn't out of the question. Samsung is rumored to put a 90Hz panel in the upcoming Galaxy S11; OnePlus may use a 120Hz display to keep its phone competitive.
If this rumor turns out to be true, there is one thing that would be certain: the OnePlus 8 Pro would bring another price hike for a OnePlus flagship. 120Hz panels are not cheap, and OnePlus usually sells its phones at razor-thin margins.