Intel paints Qualcomm as anti-competitive bully in public statement to ITC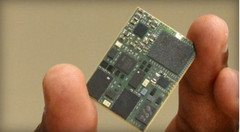 Intel has weighed in on the Qualcomm vs. Apple suit with a public statement in response to a request for comment by the ITC. In the statement, Intel alleges that Qualcomm is a bully, using the court system to crush competition. Intel claims that the move is orchestrated mainly to replace an Intel modem in the iPhone with a Qualcomm one. Intel has itself faced criticism and fines in the past for anti-competitive practices against AMD.
In case you missed the report from a couple weeks back, Qualcomm and Apple have been engaged in a legal battle since January over licensing of intellectual property, of which the most recent development was Qualcomm seeking to block Apple products from being sold in the US due to alleged infringement on non-standard patents held by Qualcomm. In a public statement to the US International Trade Commission (ITC), Intel (who has been supplying Apple with CPUs since 2006) asserted that Qualcomm was using the court system to engage in anti-competitive practices rather than protect its IP.
The first body paragraph of Intel's statement suggests that Qualcomm is seeking to force iPhones with Intel modems (only some have been made with Intel modems, likely due to supply-chain management) to turn back to Qualcomm for parts. Intel states:
"Thus, Qualcomm did not initiate this investigation to stop the alleged infringement of its patent rights; rather, its complaint is a transparent effort to stave off lawful competition from Qualcomm's only remaining rival. This twisted use of the Commission's process is just the latest in a long line of anticompetitive strategies that Qualcomm has used to quash incipient and potential competitors and avoid competition on the merits. And although those strategies have sometimes been subtle or complex, Qualcomm's latest complaint could not be more blatant in its anticompetitive aims."
Intel states that, should Qualcomm's complaint succeed, Intel, as the only other competitor for LTE modems to Qualcomm, would be shut out of the market and the public interest significantly" harmed. It's worth pointing out that, earlier in the year, Intel showed irritation with Qualcomm over the company's upcoming Snapdragon-powered PCs. Ironically, Intel had claimed that Qualcomm was infringing on Intel's own IP by emulating x86 microcode. The Santa Clara company has previously been found guilty by the EU court and forced to pay US$1.4 billion for engaging in anti-competitive practices against AMD.