CES 2019 | D-Link launches next-gen 5G-NR broadband modem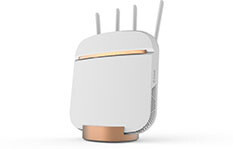 D-Link has announced a new product it is calling a 5G-NR broadband gateway (or the DWR-2010) at CES. It is intended to use 5G in order to set up home WiFi networks that, as D-Link claims, deliver download speeds that are over 40 times faster than that of the current average US fixed broadband solution. The 'gateway' is powered by the Qualcomm SDX55 and is sub-6GHz- or mmWave frequency-compatible.
D-Link has unveiled its 5G-NR broadband gateway, the DWR-2010, at CES this year. This gadget may put some in mind of a 4G/LTE hotspot, as it establishes a connection via a data-enabled SIM card. However, the company asserts that there is more to it, as this one sets up a home network using 5G-New Radio (5G-NR) speeds. This, as the D-Link claims, can facilitate download speeds of up to 40 times greater than that of the average fixed broadband line in the United States (70 megabits per second (Mbps).
Accordingly, this product could be the ideal connectivity solution, particularly for rural and remote regions (or those under-served by conventional applications such as FiOs), or so D-Link argues. The DWR-2010 may just be capable of this, as it incorporates the Qualcomm SDX55 modem. It also has 4 external antennas and a 3GPP Rel.15 embedded 5GNR NSA module to pick up its LTE/5G NR connection. This delivers MU-MIMO dual-band (i.e. 800 & 1732 Mbps) Wi-Fi at both sub-6GHz and mmWave frequencies. The DWR-2010 features 5 Ethernet ports, so that it can output 1x2.5Gbps and 1Gbps LANs as well as 1x1Gbps WAN/LANs.
The D-Link 5G-NR broadband gateway also supports VoLTE and TR-069 remote management, and will also apparently allow for automatic firmware upgrades. It has already secured an honorable mention in CES' Innovation Awards, and will be available in the second half of this year.