Xiaomi Mi AirDots Pro 2: The AirPods alternative that cost ~US$55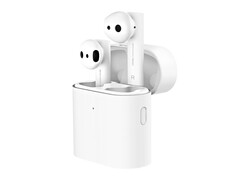 Xiaomi has followed up on the success of last year's Mi AirDots Pro with a suitably named successor, the Mi AirDots Pro 2. The headphones will be available in China from September 27 for CNY 399 (~US$55) and look uncannily like the AirPods, which Apple currently sells for between US$159 and US$199.
Xiaomi has already brought a few wireless headphones to market ranging from the entry-level Redmi AirDots to the more expensive Mi AirDots Pro True wireless in-ear headphones Review: Huawei FreeBuds Lite vs. Xiaomi Mi AirDots Prothat the company released last year. Now the Chinese manufacturer has announced a new pair of wireless headphones that succeed the Mi AirDots Pro, aptly called the Mi AirDots Pro 2.
The Mi AirDots Pro 2 feature 14.2 mm drivers and include touch controls, along with automatic recognition. Xiaomi claims that the Mi AirDots Pro 2 will last up to 4 hours between charges and will take an hour to recharge fully with the included charging case. The latter has a USB Type-C port for recharging and should have enough capacity to give the Mi AirDots Pro 2 up to 14 hours of use on a single charge.
Each headphone weighs 4.5 g, with the charging case bringing the total carry weight up to 59 g. The Mi AirDots Pro 2 will support Bluetooth 5.0, along with the AAC, SBC and LDHC audio codecs. Xiaomi claims that it has improved active noise cancellation (ANC) too, which should make the Mi AirDots Pro 2 more suitable for use when travelling than their predecessor.
The Mi AirDots Pro 2 will go on sale in China on September 27 for 399 CNY (~US$55.94) according to a company Weibo post. It should not be too long before Xiaomi brings the AirDots Pro 2 to other markets like Europe too though.