ASUS ROG G703GXR: A 17.3-inch gaming monster with few compromises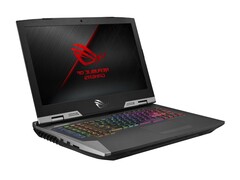 The ASUS ROG G703GXR bucks the slim bezel trend and delivers a no-compromises gaming platform with plenty of ports and decent performance. We have put the 17.3-inch gaming laptop through its paces, which you can find in our accompanying review.
The ASUS ROG G703GXR is something of an anachronism. The 17.3-inch gaming laptop weighs almost 4.7 kg and is 48 mm thick, making it much bulkier than the other thin and light gaming laptops that ASUS also sells. The G703GXR harks back to the era of gaming laptops being desktop replacements, and the device has all the advantages and disadvantages of that form factor too.
While the G703GXR is a bulky machine, its thick case allows it to sustain peak CPU and GPU performance without throttling even under sustained load. ASUS equips the device with an Intel Core i7-9750H processor and an NVIDIA GeForce RTX 2080 GPU, a lethal combination that will get you at least 60 FPS on ultra graphics in 1080p for all modern triple-A games. The G703GXR also has a 144 Hz and NVIDIA G-Sync panel to take advantage of its graphical horsepower, but it can switch to NVIDIA Optimus to reduce power consumption when you are not gaming. The display has a low black value and a rich contrast ratio too, which should appeal to content consumers. The panel is not colour accurate enough for colour critical work like photo and video editing, though.
The G703GXR should see you through a day's work too thanks to its 96 Wh battery. Our review unit lasted just over 6 hours in our practical Wi-Fi battery life test, which is considerably longer than many of its contemporaries. The device does come with two 280 W power supplies though, bringing its total carry weight to over 5 kg. In short, the G703GXR has few downsides, and its 86% overall score should place it highly in our top 10 gaming laptops leader board. Please see our accompanying ASUS ROG G703GXR review for our full thoughts and test results. (G703GX on sale now at Amazon)