Asus opens a beta program for Android 10 on the 12GB ROG Phone II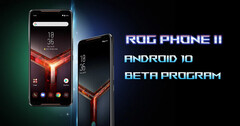 Asus is currently inviting those who own the ROG Phone II to join its Android 10 beta program for this device. However, this only appears to apply to the ZS660KL model, the 12GB/512GB international variant. Those who wish to get this update need to join the OEM's mobile device forum, have an Asus Member's account and be prepared to submit a lot of sensitive info about the phone in question.
By all accounts, the Asus ROG Phone series has just narrowly missed out on OS obsolescence for 1 of its members. Now, however, there are encouraging signs that its more up-to-date successor will not risk the same fate. The OEM has called for user applications to its new ROG Phone II beta program. This may afford the opportunity to be one of the first to test Android 10 on this device.
The beta build in question also involves a new version of ZenUI for the ROG Phone II. However, it seems a chance at trying it out is only open to those with the variant of this phone with 12GB of RAM (or ZS660KL). Therefore, those with the 8GB alternative (which includes all Chinese users with the Tencent-branded version of the same) are out of luck.
Those with the applicable ROG Phone II model are required to submit all relevant bug reports and feedback for this Android 10 beta build to a specific closed forum, should they be successful in their application. To do so, they must go through their Asus Member's account. Other criteria for beta testers include an active presence on the OEM's ZenTalk forum, an official community site on which considerably less positive update-related news about the ZenFone 4 was recently broken.
Applicants to the new ROG Phone II Android 10 beta program include the ability to submit the application and possible feedback in English. In addition, they may be asked for various pieces of personal information, as well as the IMEI, serial number and current firmware status of the ZS660KL device in question.