Asus and Google developing credit-card-sized AI-focused PCs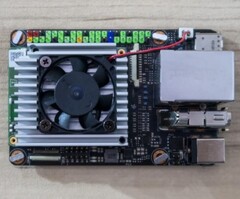 Machine learning is already making its way into IoT devices, as Google and Asus are now collaborating to release single board computers the size of credit cards. Even though they are small, these devices are powerful enough to enable AI-assisted applications for image recognition and upscaling.
Most of the flagship smartphone SoCs now include dedicated machine learning processors (neural processing units) that facilitate A.I.-enabled features, which are more or less gimmicky for the time being. However, machine learning is primed to explode in the next few years, and it will most likely impact many markets, including the Internet of Things sector. As one of the early adopters of machine learning solutions, Google has its hands in many pots, with IoT being among its higher priorities as of late. Just recently, the company teamed up with Asus to work on the "Tinker Board" models that are barely larger than a credit card.

The new "Tinker" series is designed for small systems focused on A.I.-powered applications for image recognition. The small boards come in two flavors: the Tinker Edge T powered by an NXP i.MX8M with an Edge TPU processor specialized in TensorFlow Lite applications, and the Tinker Edge R equipped with a Rockchip RK3399 Pro NPU optimized for 4K machine learning. Both models support Android and Debian, but they can easily be adapted to run on any Linux, Windows or MacOS systems. Standard features included on boh models also include active coolers and connectors such as GbE, USB 3.0 and HDMI.

Availability and pricing info is still unknown, but Asus announced that it will showcase the Tinker series at this year's IoT Technology conference in Japan on November 20.