Google is reportedly coming for the Apple Card with new financial-institution partnerships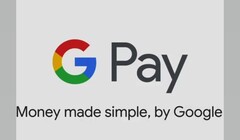 Google has reportedly set up partnerships, or at least talks for partnerships, with various US banks and credit unions to offer a new kind of checking account linked to the Pay service. This may help it battle Apple, not to mention other bodies such as AliPay and Samsung Pay.
A new article in the Wall Street Journal alleges that Google is about to step into a whole new arena of consumer service: banking. To this end, it will reportedly set up partnerships with various financial institutions - both banks and credit unions - to offer a type of checking account that is linked to the company's Pay app.
The Mountain View's motivation for doing so may be somewhat obvious: its closest mobile-OS rival's own most recent financial product, the Apple Card. This is a novel kind of Mastercard that can be used and managed through Apple Pay. Therefore, it now appears that Google is moving to prepare a competitor, an initiative currently known as Project Cache.
This new endeavor may see its first real-world offering soon, as a deal with Citigroup to develop a checking account to be linked to Google Pay has already been secured. It is not clear if these products will be linked to physical cards as with the recent Cupertino-developed solution. However, it has been reported that such partner institutions may be be more in the foreground when marketing these accounts compared to Goldman Sachs in relation to the Apple Card.
These new reports have led to speculation that the "Google bank accounts" will become associated with exclusive offers or discounts for products from the same company, as Apple products are linked to increased cashback when bought with the corresponding Card. Then again, they have also sparked theories that "Project Cache" is being set up with the aim of collecting even more pertinent data about its users.