The Motorola Razr 2019 is FCC-certified, confirming foldable design and more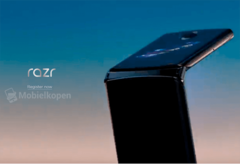 Motorola has finally certified its first-gen foldable with the Federal Communications Commission (FCC). The device's documentation reveals everything about the phone - well, from the outside, at least. Its new regulatory images dovetail with its most recent leaks.
Motorola has finally registered the new Razr with the FCC. This filing, which took place today (November 13, 2019) puts the device closer to reality than ever before. This is not least due to the fact that the US telecomms regulator has photographed the foldable device in a level of detail that not only indicates that its most recent leaks were correct, but where its various components (e.g. its NFC reader) are and how its internal screen may integrate with the rest of the device.
The next-gen Motorola Razr's new certification also shows its non-screen aspects for the first time. For example, we can now see that its "rear" panel (the lower half of the back of the device when unfolded) has a textured pattern that may strike some as a throwback to more OG Razrs. We can also see that a button-like feature at the bottom front edge is in fact a power button, and also integrates the device's fingerprint sensor.
Then again, the filing also reveals that the new Razr does not have a headphone jack, and may thus also use its USB type C port for audio as well as charging. It also shows that the upcoming foldable device is rated for conventional 4G/LTE mobile-data bands, Wi-Fi and Bluetooth. Finally, the new FCC document also reveals the 2019 Motorola Razr's model number: it is T56XM1.