Google Stadia app comes to iOS, but it is not for playing games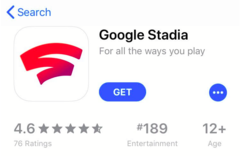 Google's Stadia app is now available for iOS. However, this version of the app will not be able to play games when the service launches next week; rather, it is designed to manage a user's Stadia library. Surprisingly, the app already has a 4.6-star rating despite not being able to do anything yet.
Google's Stadia streaming service is officially launching next week. Surprisingly, the Stadia app recently popped up on the iOS App Store. However, there's a catch.
The Stadia app for iOS isn't for playing games; that privilege is reserved to the Pixel 2, Pixel 3, Pixel 3a, Pixel 4, and their XL counterparts for now. Instead, the Stadia app for iOS can be used to manage a Stadia library, just like it should on other non-Pixel handsets.
To that end, the Stadia app seems useless. Considering the same operations can be done on a device that supports game streaming, and considering a user would have to have one of these supported devices to enjoy Stadia, the iOS app feels redundant. Additionally, the iPhone app can't do anything until the service launches next week.
The Stadia app for iOS is currently enjoying a 4.6-star average over 76 ratings. Hilariously, most of the comments on the app pertain to the Stadia service itself rather than the app, and these are short statements exclaiming excitement for the service the commenters are.
If you want to download the Stadia app for iOS to acclimate to its UI in anticipation of next week, you can download it through the Apple App Store.