Deal | Asus ROG G703GX with GeForce RTX 2080 graphics is $600 off right now, costs less than a Razer Blade Pro 17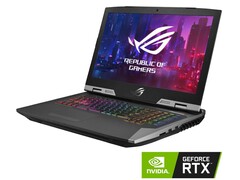 While full-power GeForce RTX 2080 laptops don't come cheap, this limited-time deal on Asus' most powerful gaming laptop makes it one of the least expensive in its category. The $2400 price point is several hundred dollars cheaper than competing systems from the MSI GE75 series or the Acer Predator series.
The ROG G703 is Asus' premier 17.3-inch gaming laptop series. Unlike the super-thin Zephyrus series or the mid-range Strix series, the G703 isn't trying to be the thinnest or lightest in its category. In fact, its chassis still rocks thick bezels to be unapologetically larger and heavier than most newer gaming laptops.
The extra girth allows the Asus ROG G703 to sport faster graphics and hardware than the competition. Newegg currently has the ROG G703GX with a Core i7-8750H CPU, non-Max-Q RTX 2080 GPU, 16 GB of RAM, and 512 GB SSD for only $2400 down from the initial launch price of $3000. While this may still sound like a lot of cash, the new price is actually much lower when compared to other 17.3-inch gaming laptops. The Razer Blade Pro 17 with RTX 2060 graphics, for example, currently costs $2500 to be both slower and more expensive than the Asus.
Gamers who may be concerned about the older 8th gen Core i7-8750H CPU have no reason to worry. We've already proven that the 9th gen Core i7-9750H offers little to no benefit over the Core i7-8750H especially when it comes to games where the GPU is more frequently the limiting factor.
See our full review on the Asus ROG G703 for more information on the chassis and our full take on the series.