Easier selfies, but not for all: Samsung brings camera improvements to some Galaxy Note 9 devices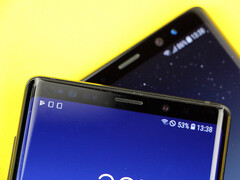 The latest update for the Galaxy Note 9 makes it easier to switch between taking regular and wide-angle selfies. The firmware updates the device to the April Android security patch too and introduces an option to automatically schedule Night Mode. Frustratingly, not all devices will receive these features this month though.
Samsung has started to roll-out the April Android security patch to the Galaxy Note 9, but it has also taken the opportunity to fine-tune a few of the device's features. The new update adds the option in Settings to automatically schedule Night Mode; until now it has only been possible to switch the mode on or off manually.
Moreover, it is now possible to switch between taking a regular selfie and a wide-angle selfie without having to dive into the camera app settings. Samsung has added a toggle above the camera shutter button that allows you to swap between 68° and 80° field of view (FOV), which should make it easier to decide what type of selfie you want to take on the fly.
The update in question is N960FXXU2CSDE, which is approximately a 520 MB download. GSMArena reports that Samsung has released the update to devices in Germany, but there are multiple reports that devices in other regions are either stuck on older security patches or have received a smaller update that only includes the April security patch update. Hopefully, Samsung will bundle these two new features in a separate update or in next month's security update, although it has not confirmed so yet.