The highly anticipated camera update for the Samsung Galaxy S10 range doesn't do anything special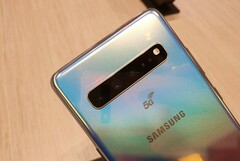 A few days ago, there were reports that the Galaxy S10 phones would receive a camera update that would improve their night modes. The update was sent out yesterday and it's turned out that it doesn't actually do much.
A few days ago, it was revealed that the new Galaxy S10 phones were set to receive a camera update that would improve the devices' night mode feature. The OTA was sent out yesterday but it would appear those rumors were pointless, as the update really doesn't do anything new.
Samsung's night mode is marketed as Bright Night, and is meant to be a competitor to Google's Night Sight and Huawei's Night Mode. Sadly, it's comfortably the worst of the three. Before this update, Bright Night was not a dedicated mode, and could only be triggered by the AI in lighting conditions it deemed fit, ergo extreme low-light. The new update, however, allows users to toggle the mode themselves. Also, it's not even referred to as "Bright Night" in the app either; just "Night".
That's fine and all—and definitely has it uses—but most may have been led to believe that the update would bring a performance boost. It doesn't. Bright Night is still better than shooting in auto mode but, as a standalone feature, it fails to trade punches with Huawei and Google's takes.