At least one new iPhone will have a super-wide-angle camera: Ming-Chi Kuo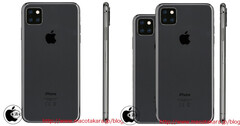 The prolific Apple analyst Ming-Chi Kuo's latest prediction concerning the 2019 iPhones indicate that at least one of them will have triple rear cameras, augmented by an improved wide-angle lens in one module. In addition, the new devices' selfie cameras may be upgraded. On the other hand, they are likely to retain a notch and glass rear panels.
The TF International Securities analyst Ming-Chi Kuo has reportedly just told Apple investors to expect new iPhones with numerous upgrades. For example, it is possible that at least 1 of the 3 projected variants for this year will indeed have triple rear cameras. This phone (or phones) may have a super-wide-angle module, provided by Sony, as well as wide-angle and telephoto modes. This is an improvement over even the iPhone XS Max of 2018.
Oddly, Kuo has also predicted that one kind of upcoming Apple flagship will have a 5.8-inch screen - but also have an OLED panel. This leaves the 'second-generation XR' with a 6.1-inch LCD screen. On the other hand, this model is apparently also due for a RAM upgrade: it will have 4GB rather than the 3 of the current iteration.
All of these future iPhones are also projected to be equipped with a 12 megapixel (MP) selfie camera, as opposed to the current 7MP module. Kuo has also told investors that these devices would retain the by-now infamous notch, mainly as the TrueDepth technology necessary for Face ID is making yet another comeback. This time, however, it will have improved light-scattering technology for enhanced accuracy and, thus, security.