Samsung Galaxy S10 could come with a feature to rival Google's Night Sight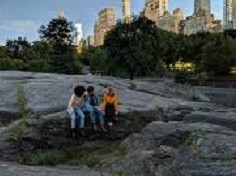 The Galaxy S10 series may introduce Bright Night, Samsung's take on the super-low-light image-capturing feature. Hints to this effect were found in part of the code from a One UI beta for the Galaxy Note 9. This trend may be well-established by now, but may still be a valuable selling point for the Korean OEM.
2018 could be thought of as the year of the super-low-light mode - in smartphone terms, anyway. This trend may have been kicked off by Google, who introduced its Night Sight software feature with the Pixels 3 and 3 XL. However, other OEMs were also quick to unveil their own; we now have a choice of OnePlus Nightscape, Xiaomi Night Scene, Honor Super Bright Mode or Huawei Night Mode.
By any name, this novel form of low-light shooting involves flash-independent photography, in which the phone (or phone AI) takes multiple shots of the same subject and stitches them together for optimal detail and light. It now seems that Samsung may apply this technique to the cameras of the upcoming Galaxy S10 line-up. Its take on the mode will apparently be called "Bright Night".
Its existence is indicated by certain lines found in the APK of the Samsung Camera app found in the latest One UI beta for the Galaxy Note 9. It contains a number of strings on the subject, in which Bright Night is patently described (and as a veritable Night Sight clone, no less). In addition, conditions under which the feature is summarized, initialized and should be suggested are outlined in this code. There are no specific hints as to when Bright Night will be introduced or integrated into One UI, although the S10 launch is the most obvious candidate at this point.