New report asserts that the Samsung Galaxy S10 5G will come with a 5000mAh battery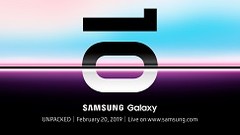 A new article on the site GalaxyClub claims that the 5G variant of the upcoming Samsung Galaxy S10 line will have the series' largest-ever battery. Much like the rumored Galaxy M20, It will have a capacity of 5000mAh. This possibility would mean that even the Galaxy Note 9 would no longer have the largest battery of any Samsung flagship.
The Samsung Galaxy S10 series now has a launch date, which will be in February 2019. However, that is not all we may know about the upcoming flagship line of phones. An earlier report has claimed to outline the battery capacities of various S10 variants. For example, the S10 Lite is thought to have a 3,100 milliamp/hour (mAh) battery. This may not seem very 2019 (or even 2018, for that matter); however, the S10 Plus will jump straight to a 4,000mAh battery. This equals the Galaxy Note 9 for charge capacity.
Then again, a new report from Galaxyclub.nl claims that the 5G-enabled version of the Galaxy S10 will outdo both phones. This article asserts that this upcoming phone will have a monstrous 5,000mAh battery. Admittedly, this is not the first time a possible 2019 Samsung phone with this much juice has been heard of. The Samsung Galaxy M20 is a bottom-tier phone also predicted to come with this feature. Galaxyclub.nl goes so far as to suggest that the S10 5G's battery will go by the model name EB-BG977ABU.
A battery of this size may be a welcome addition to a smartphone, especially for the sheer screen-on time it may deliver. On the other hand, the alleged need for as much as 5,000mAh may be a negative indictment of 5G and its power-efficiency. Furthermore, it may have an impact on the S10 5G's cost, which is already being projected at well over US$1000.