Samsung hints at the announcement of the Galaxy F in a press release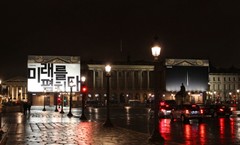 Hot on the heels of briefly giving us a glimpse of the Galaxy S10, Samsung has included more teasers in another press release about what devices it will soon be unveiling. This time the company has heavily hinted at the prospect of announcing its foldable smartphone, the Galaxy F, at its Galaxy UNPACKED event next month. The company is expected to reveal its Galaxy S10 series at the event in San Francisco too.
Samsung has announced that it has posted a series of huge billboards at Place de la Concorde in Paris in advance of next month's Galaxy UNPACKED event. The posters are written in Hangul and translate to "The future unfolds" and "February twentieth", according to the South Korean manufacturer.
The phrase "The future unfolds" would have been a big hint itself at what Samsung is planning to reveal at its Galaxy UNPACKED event in San Francisco, but the company has been even more explicit in its press release. The company states that the billboards:
...tease an exciting future for the Galaxy lineup. In other words, a bold new vision for the Galaxy brand that will drive smartphone innovation for the next 10 years and beyond.
All this points towards the company unveiling a foldable smartphone, which is commonly referred to as the Galaxy F, at its Galaxy UNPACKED event next month in San Francisco. Moreover, Samsung announced its Infinity Flex Display to developers at an event in San Francisco late last year, during which it remarked that it intended to start production of a foldable smartphone within a few months.
Samsung is also expected to announce its Galaxy S10 series at its Galaxy UNPACKED event too, which may feature up to three devices. Currently, there is speculation that the company will release a Galaxy S10 Lite, a standard Galaxy S10 and a Plus version that will also feature support for 5G. All devices will reportedly have Infinity-O displays, which the company first announced with the Galaxy A8s. Samsung may have briefly revealed an official render of the Galaxy S10 too, about which we reported last week.
What do you think Samsung is hinting at with its Paris billboards?