Battery capacities of the Samsung Galaxy S10 phones revealed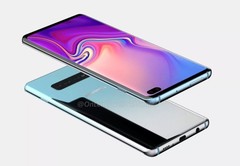 Details of the display sizes and battery capacities of the upcoming Galaxy S10 phones have surfaced. The S10+ is the most notable entry of the trio, as it will be as big as the Note 9, while also having the Note's huge 4000 mAh battery.
The influx of Samsung Galaxy S10 rumors is getting rather annoying. We've already had close looks at the devices, so there's not much else to be learned on the design side—bar real-life photos, of course. This time out, word on the batteries that will power the three phones has surfaced.
According to the source, reliable tipster Ice Universe, the Galaxy S10 Lite will feature a 3100 mAh battery. The S10 Lite is expected to sport a 5.8-inch display, which is the same with the S8 and S9, both of which made do with 3000 mAh batteries. It's a slight step up, we'd say.
The S10 will be powered by a 3500 mAh unit. It sees a bump in its display size, going from the 5.8-inch panel on the S9 to a 6.1-inch one. The S10+ will be the biggest of the lot, and it shows, as it goes up from the 3500 mAh battery on the S9+ to a 4000 mAh battery, same battery capacity as the Note 9. That makes sense, of course, as the S10+'s 6.4-inch display will be the same as the Note 9's.